A Miniature Artist Explains to Marco and Erica How to Put Things into Perspective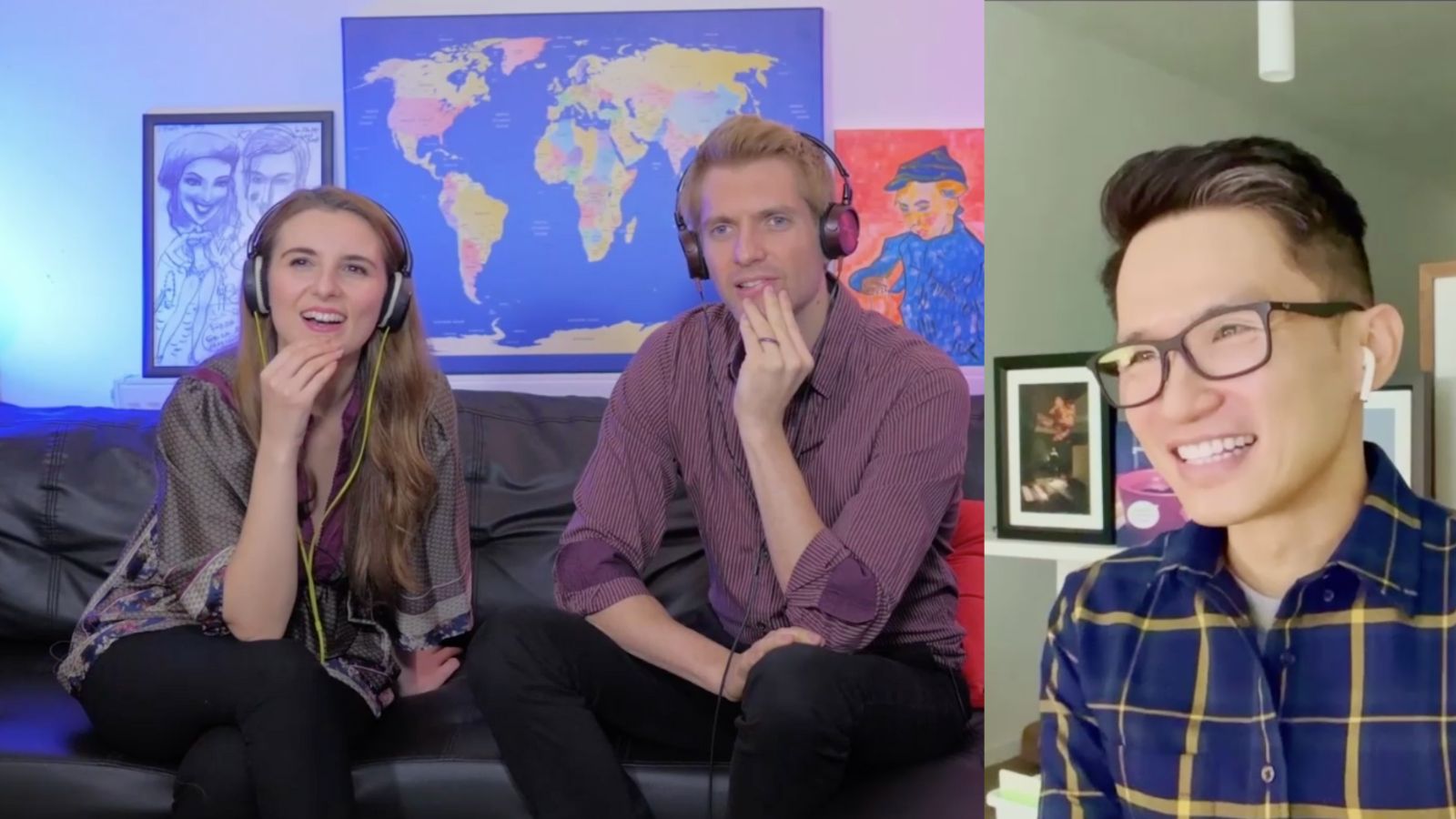 July 6, 2022 - By sydneywells
Marco and Erica bring you a light-hearted introduction to the world of miniatures and to the life of an artist through an interview with Derrick Lin.
This episode of Marco and Erica's #TALKSHOW takes you straight to Seattle, Washington (remotely, of course) for an in-depth interview with Derrick Lin. Derrick Lin, an artist specializing in miniatures and author of his very own picture book, sits down to talk about his life, his work and how finding himself through art has helped him overcome the challenges associated with the stress of living in the world today. 
Undoubtedly, the future of the world has become more uncertain within the past few years. Derrick Lin is watching this unfolding and is choosing to create his own worlds through miniatures that he collects and creates. While maintaining a career in advertising, Derrick is dedicating thousands of hours into creating the perfect pictures to tell the stories that he is wanting to share. 
Derrick on the Support of Family and Friends
When I still worked in my office my coworkers would be super supportive…When I needed faces in my pictures, they would actually volunteer. 
Derrick has collected and created over 2,000 miniatures that he uses in his work to communicate his message effectively. Often taking a week or more to create pieces that he is unable to find, Derrick's dedication to his mission is fueled through his passion for the craft. When he is looking for certain pieces for his work, he is surrounded by friends, family and coworkers that will give their time to helping him find whatever he needs. While Marco jokes about preferring his support to come in the form of money, Derrick accepts the kind gestures from everyone around him and gives credit to the role they play in his success.
When it comes to connecting with his home and his family, being close to them is something incredibly important to Derrick. Being the only one in his family to have moved to the United States from Thailand, for 15 years he has been trying to keep that connection to the people and the culture alive. Derrick only talks to his mother in Taiwanese so that they feel more connected in the conversation and he even moved from the East coast to Seattle to be closer to his family. It is no question on whether this distance has been the source of many of the emotions that Derrick has sought to portray. 
Derrick on How Miniatures Can Make a Big Impact
"I like to visualize thoughts and feelings and, typically, not the kind of thoughts and feelings that people want to express."
Derrick credits the rise of social media as being his inspiration to start creating his pieces. He found that the glamorization of everyday life led to him feeling unhappy and unsatisfied with life. 
Moreso, he felt frustrated with the fact that emotions were no longer acceptable things to communicate with others. Social media created an environment where everyone has created a false version of themselves that is meant to be constantly portrayed through positive emotions. Derrick decided to use his art to give life to the emotions that people are being pressured to hide.
These "negative" emotions were only enhanced during the Coronavirus pandemic, and in the spring of 2020 Derrick once again became inspired with what he was seeing on social media. This time it was because of the videos he saw of people connecting with each other while being distanced. One video, in particular, of people singing together across their balconies shifted Derrick's focus from providing an outlet for negative emotions to becoming a source of positivity. 
This hope to provide an outlet for others to feel emotions that they may have been suppressing for years is something that has connected him with almost 100 thousand people who follow him on Instagram. Turning years of unhappiness into a project that resonates with other people going through the same struggles is something that has made an impact on Derrick and his audience.
Derrick on Turning Your Passion into a Passion for Life
I started to see… a lot of angles from the same emotion because when I stage a scene and take a picture, I have already processed the emotion. I have already internalized and expressed it."
Derrick's passion for miniatures is so great that it has become an outlet for him to express all of his emotions, whether they be positive or negative. He tells Marco and Erica that the work he has been doing has changed him as a person throughout the years that he has been doing it. This passion for his craft has increased his understanding of his emotions, less stressed and made him more positive. If people are looking for ways to reshape their lives and minds, finding something that you are truly passionate about is a great way to achieve that goal. It does not even need to be a creative outlet, it just needs to be something that deepens your connection to yourself and to others. 
Marco and Erica understand how the passion for what someone does can influence their happiness and can change someone's entire mentality towards the world. Marco even gives his thoughts on the subject by giving some pretty sound advice about how having control over your feelings and your actions is all you need to change your life. This statement resonates with Derrick and, presumably, with a large number of creatives who find their freedom comes from having control over what makes them happy and having the means to pursue their happiness. 
Derrick's passion for miniatures is what keeps him continuing his work with them. He spends his time finding inspiration to continue learning and innovating his techniques to achieve his desired result. With enough projects to fill a book under his belt, he is still collecting and creating new pieces to become an even greater artist within his craft. As something that he can turn to whenever he feels a strong emotion or finds inspiration, miniatures have transformed from a simple hobby into a type of obsession. Striving to become better and create the best pieces possible, Derrick does not have a plan to stop any time soon and wants to continue pursuing his craft with as much of his free time as possible. 
To watch Marco and Erica interview Derrick Lin and find out even more about his path to his career, his passion for miniatures and his connection with others click here!
By Britalians TV
Written by
sydneywells
Brands mentioned in this press release
Featured Stars
Locations mentioned in this press release
Press Releases