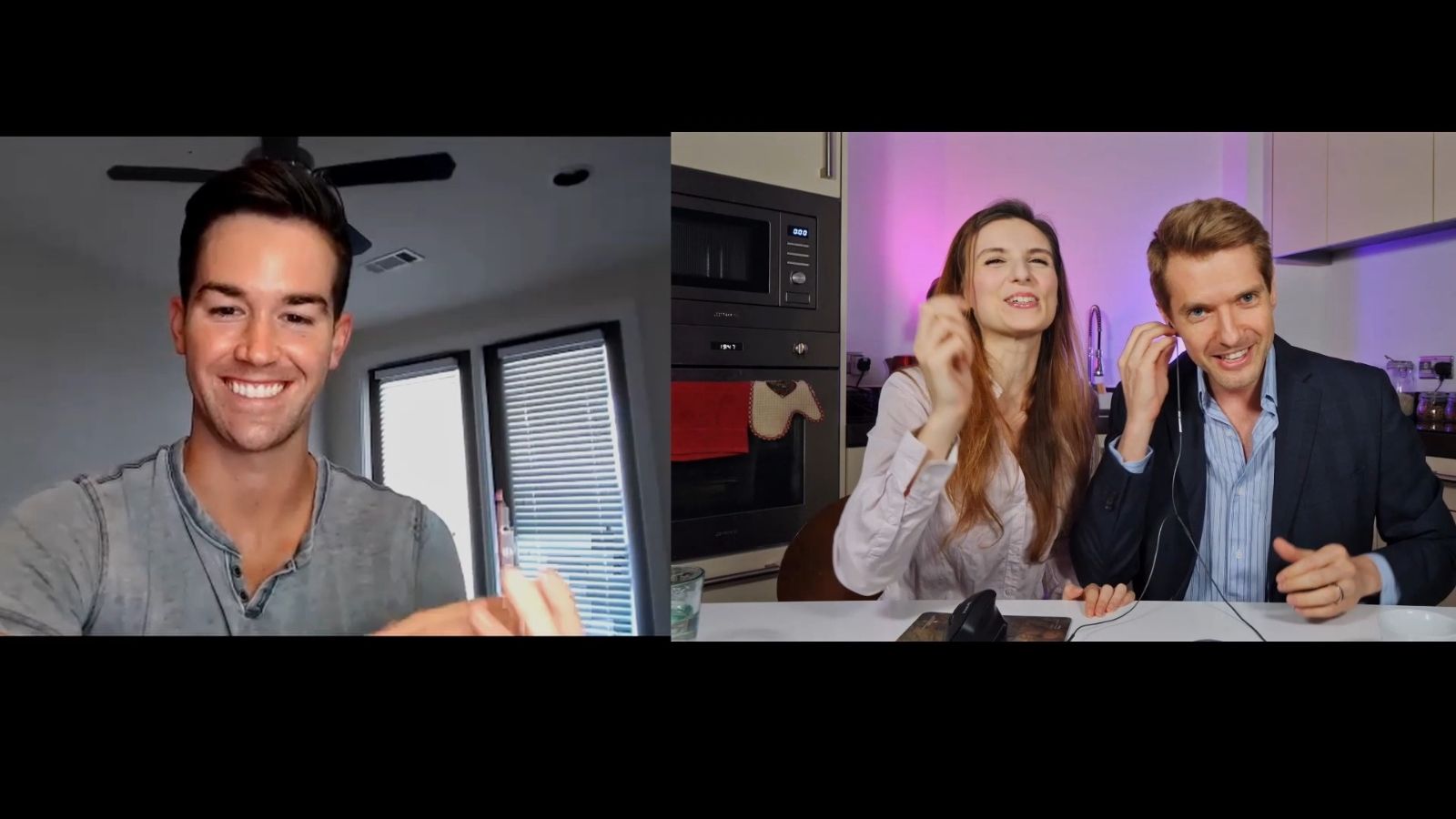 January 17, 2022 - By Marc Vezzi
Discover country singer Joseph Hayden!
Good morning Britalians TV viewers!
Lots of energy with our super bubbly interviewers, Marco and Erica, kaboom!
Despite being forced into seclusion due to Covid, ours really are in their kitchen spewing happiness from all the porridges! In fact, they are blissfully sitting here sipping coffee, something you wouldn't be able to do in a studio as it is normally understood, better than this!
Today a special guest from the USA. A musician, a singer.
Marco: "Do you like it?"
Erica: "Yes!"
Marco: "But you can't!
You have to be the most faithful Italian wife, washing dishes etc."
Clearly, Erica loves the fact that he is a talented musician, a singer, everything she would like to be, Marco!
To introduce the guest, as always, unfortunately in this quarantine it was not possible to bring a band into the studio. So today Erica herself gives carte blanche to our Barney, who nevertheless does very well as an opera singer, performing Libiamo ne' lieti calici, a famous episode in waltz time from the first act of Giuseppe Verdi's Traviata. Not to be missed!
With the DeLorean time machine, driven by Emmett "Doc" Brown and Marty McFly, join us the singer and musician Joseph Hayden. Just kidding! Just kidding! In fact, Joseph Hayden, our host, has a name very similar to that of the famous Austrian composer, one of the greatest exponents of Viennese classicism, Franz Joseph Haydn!
Joseph is now in Nashville, Tennessee, after spending seven years in New York and then a short time in San Francisco.
Marco was also in NY, more because he had mafia contacts, we'll take his word for it!
In Nashville, he lives in a flat. He had already been there four years when he was at college. And what better place to go than here, which is one of the most important centres for music and in particular for Joseph's genre, country music?
Joseph sings his debut single live, a beautiful Different that is worth listening to. As Marco reminds us, the classic music that you listen to when you're driving along the road, perhaps Route 66.
Joseph tells us how he gets inspiration for his beautiful songs. He prides himself on the inclusiveness of his lyrics, so much so that he draws on experiences that are largely specific to his personal life, but which he tries to write in such a way that they can be applied to different circumstances and ways of life.
And not of course as Marco improvises by referring to moments in life "I went to the supermarket but they didn't have mozzarella! Just an umbrella!", more in-depth!
So the importance of showing oneself without filters, in every creation, is fantastic! authentic!
All because he wants people to embrace art!
Hayden is 26 years old, originally from South Carolina. He started singing early in life, secretly writing his works in his bedroom. Then from youth talent shows to school and college. Having an irregular job then he thought his talent could become a more stable job. So for the last two years he has been singing independently, creating a self-image with a gorgeous face and crazy hair that makes Marco so envious.
Marco: "I love you and I hate you!"
Joseph tells us what he's working on today. He has started programming shows in Nashville and wants to get in touch with people in the local music industry, create songs with other people. And he will definitely sing our Marco if he needs an opera singer!
Joseph finally tells us how quarantine is going in Nashville, which is not as closed as in the UK where Marco says Erica is going crazy, she's been working out, she's been running around the parks naked, it's unbelievable!
In the meantime, he's done a few shows online and will soon have his first live show in Nashville.
Two final questions, one personal and one funny.
Joseph is single so if anyone wants to come forward write to Britalians TV and Erica and Marco will arrange a date for you, and plan the evening.
If he was a ghost, he, like many others we've interviewed in the past, would love to listen to other people's conversations, but he might also be trying to promote his own album.
A beautiful boy, Marco loves him, loves his hair and his face!
Erica too, so much so that she almost betrays Marco!
A fledgling artist who will surely soon be known all over the world!
By Britalians TV
Written by
Marc Vezzi
Brands mentioned in this press release
Locations mentioned in this press release
Press Releases