A Chocolate Extravaganza In Vermont- Humans of the World third Season Flies Across The Pond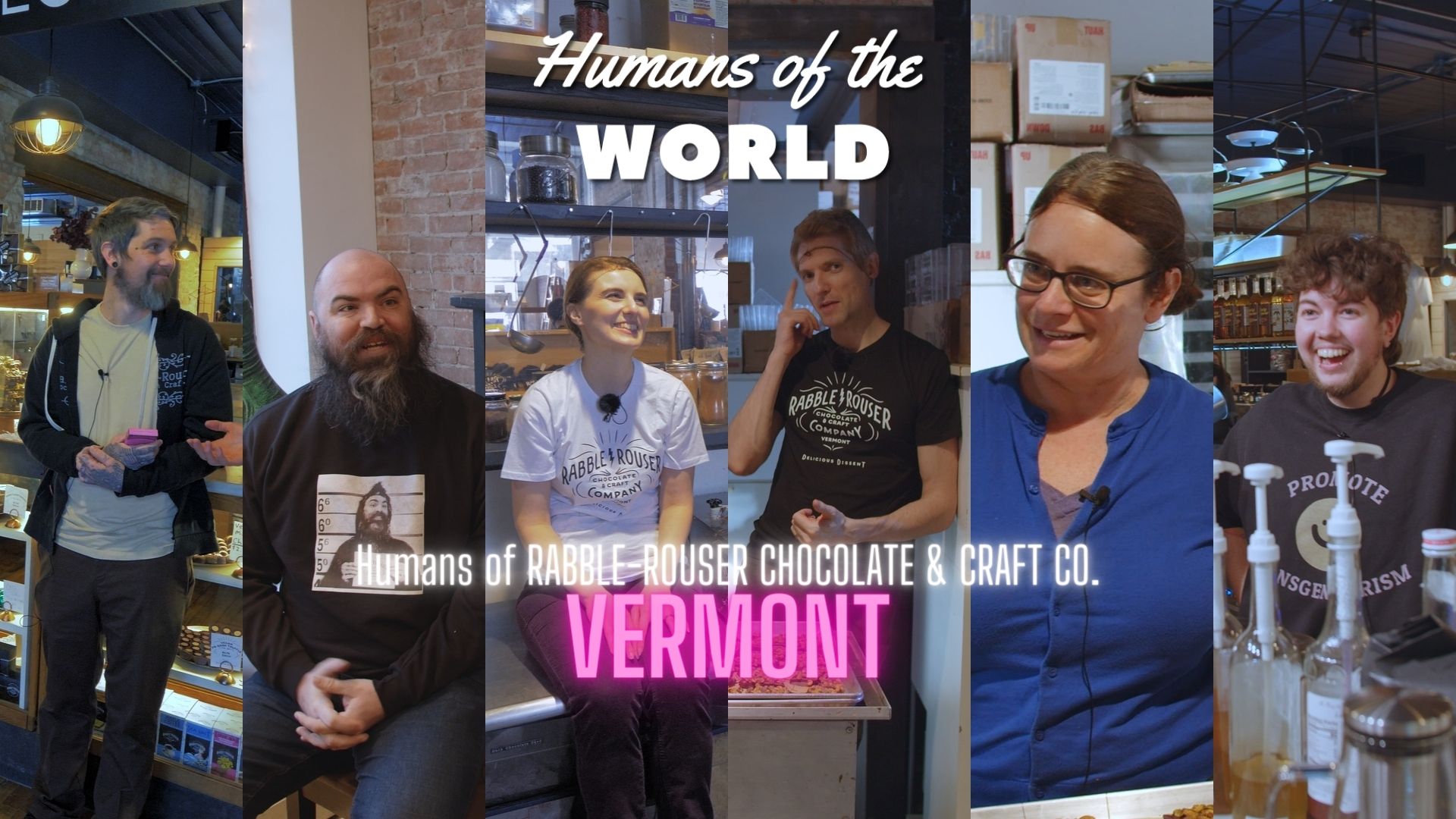 January 29, 2023 - By Emeka Diamond
Marco & Erica Return For More Adventures 
Vermont, it borders the states of Massachusetts to the south, New Hampshire to the east, New York to the west, and the Canadian province of Quebec to the north. Known for its forested natural beauty, majestic green mountains, scenic hiking trails, and, as some would put it, its destination-worthy skiing. 
Our favourite presenters are back! This article from here onwards is a big spoiler, so a spoiler alert is in effect….Still here? Ok well now we can begin. 
I have the inside scoop, (from Marco and Erica themselves), Humans Of The World new season is returning in style, with them travelling to Vermont and meeting a whole host of people while on their trip. Join me as I discuss their trip around the picturesque state in places such as Burlington, Montpelier, Barre and Woodstock. Firstly, let's take a visit to a "sweet" spot.
By The Community, For The Community
Their first stop on the trip involves somewhere moreish, a stop to the chocolate and craft company called Rabble-Rouser. Having a sweet tooth, I myself am intrigued by this segment, (with the movie "Charlie And The Chocolate Factory" present in my mind). 
What I loved about the humans behind this company it's not only the duality of both its co-owners, (with Ryan Geray being a worker/owner as well as an artist and his co-owner David Wheeler, who joined the company when he moved to Vermont after an impressive 21 year career in the US Army), but also the company's policy, which shows just how dedicated they are with helping their workers grow with the company.
This is stated in their manifesto:  "Originally an insult hurled at "troublemakers", "Rabble-Rouser" describes our mission of tasteful social change. Chocolate is simply the engine that powers our greater goal: strengthening, nourishing, and supporting our communities through the unifying power of exceptional chocolate, art, craft, and culture. We are dedicated to doing things differently. As a 100% worker-owned company, we believe that every worker, who is dedicated to their job working, should have the right to claim ownership and share in the profits of their labor. Through our shared hard work we hope to create a new culture of business, leisure, diversity, receptivity and humanity".
Located in Montpellier, the State Capitol, Marco and Erica will be taken on a tour of their chocolate factory, shop and exhibition space. Not only that, but Ryan's artistic expertise is woven into the fabric of the company (no pun intended). They sell art, textiles and accessories handmade by the local community. So their manifesto of making the company "100% worker-owned", has come into fruition, creating a bond with their local community that will not only help their company increase their profits because they are a brand that people have faith in, but also help with inclusion and not making others feel excluded.
A Helping Hand
I was delighted to know that they are a company that helps support various causes and in fact you will learn that their products help their community in Montpelier in a big way.
They are outspoken advocates against the recent Texas abortion ban and decided to shift proceeds from their product "Chocolate Vulvas" to organisations on the frontline of the fight for reproductive rights and abortion access. Every $1 sold from their product will be donated to "The Afiya Center", a Reproductive Justice Organisation in North Texas founded and directed by black women. The Afiya Center is an encouraging and uplifting organisation. Their manifesto states "At TAC we are transforming the lives, health, and overall well-being of Black womxn and girls by providing refuge, education, and resources; we act to ignite the communal voices of Black womxn resulting in our full achievement of reproductive freedom."
They also sell Pride Bars "a delicious tribute to social equality. It blossomed out of the belief that everyone should be able to love who they love while eating mind-blowing chocolate. A portion of proceeds goes to The Pride Center of VT". It is fantastic to know that they help support a whole community of people by donating proceeds made from their product shows their stance on social equality and helping those who can feel isolated or ostracised based on their sexuality. 
Partnered up with a programme called Vermont Everyone Eats, they "provide nutritious meals to Vermonters in need of food assistance, as well as a stabilizing source of income for Vermont restaurants, farmers, and food producers". Even though Rabble-Rouser specialises in making chocolate products, it is wonderful to know they are advocates of healthy eating and nutritious meals. 
Although nutritious meals are important and vital for our bodies to be able to work, a sweet treat once in a while can't hurt, (if I was in Vermont, I would run to Rabble-Rouser and buy some of their products immediately). 
Master Chocolatiers 
Rabble-Rouser produces many different types of chocolate bars from caramel squares and "Bernie Bars", (chocolate bars that have Bernie Sanders' face on the front and ensure cocoa farmers get a higher wage), to shortbread and "Chocolate Vulvas". If you're wondering, yes it is a real chocolate product they sell that looks like what you think they are. But the proceeds from it go to a good cause and the name and look of the product is a selling point that is popular, so more power to them. 
I went into this article thinking that I was going to view mouth watering bars of chocolate on display to appease my sweet tooth, but the more I learnt about Rabble-Rouser and the various social activism campaigns they partake in, the more delightful this article was to write.
Rabble-Rouser embodies what a company should truly be about. Not just making products to sell and make money, but be active in the community, helping with causes and donating to those that need it. By creating a dialogue with their community through their philanthropic endeavours, they have not only helped with showing everyone they are a business they can trust, but they have also helped to bring their community in Montpellier closer together. 
Vermont Discovery Continues
This is only one of the stops in Marco and Erica's trip in Vermont. I am eagerly anticipating the fifth episode to release so I can find out what awaits the presenters. 
Maybe the matchmaking will be successful and give two people their fairytale happily ever after? Will another hedonistic festival take place like in Cagliari? Perhaps Marco will add a new profession to his growing list?
I'm sure we can't all wait to find out what "the trip across to the pond" to Vermont has in store for those two and be able to meet more fascinating people for interviews. All coming up in Season 3 of Humans Of The World. 
By Britalians TV
Written by
Emeka Diamond
TV Show Episodes mentioned in this press release
Press Releases