Exceptional landscapes, Bear watching, friendly people and regenerating traditions: Discovering Estonia with Jana and Kadri.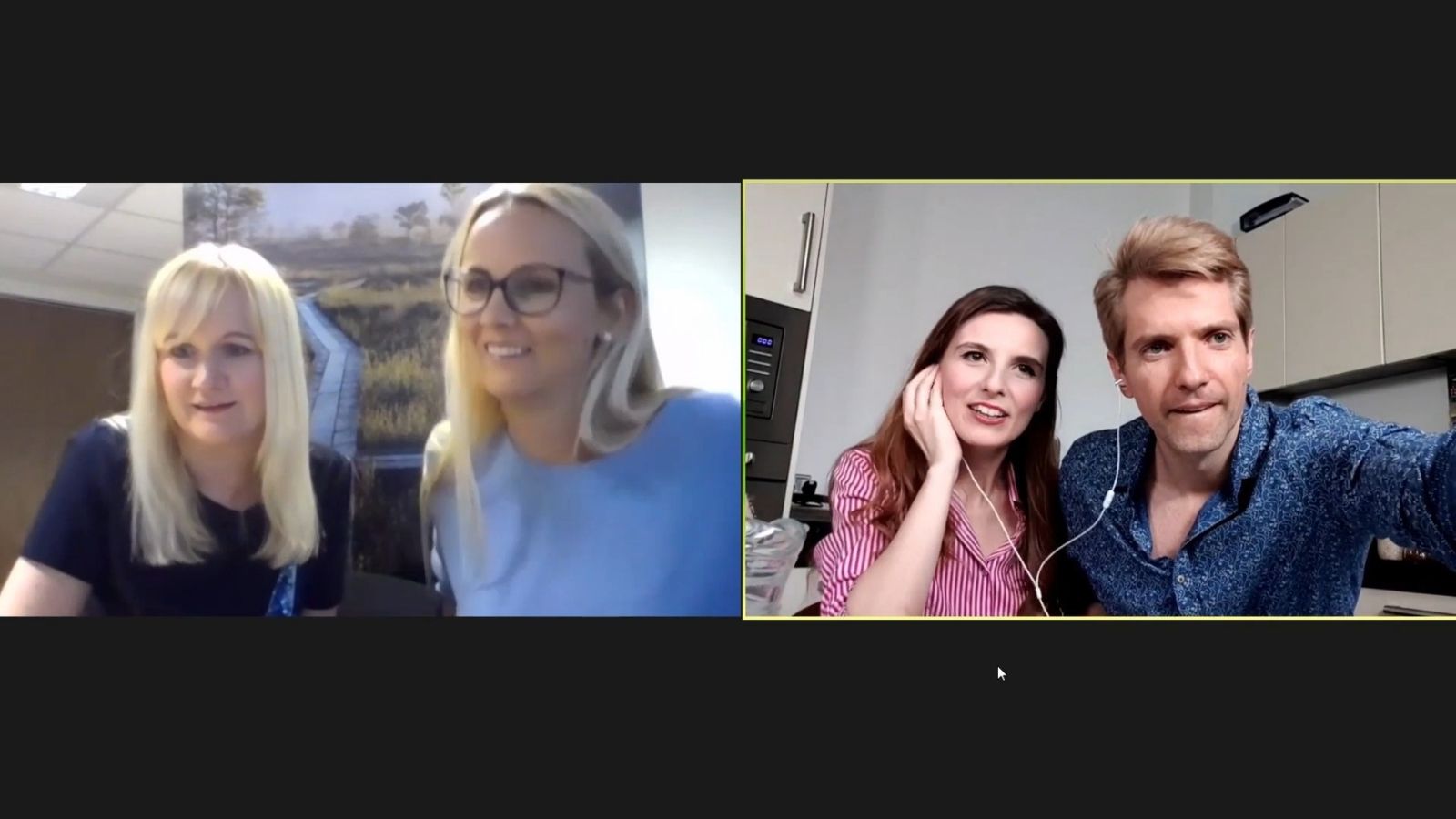 October 25, 2021 - By Marc Vezzi
Exceptional landscapes, Bear watching, friendly people, "regenerating" traditions, right Marco?
Welcome back to Britalians TV!
Today, unfortunately, Marco and Erica couldn't take part in Britalians TV, we're sorry… but no, they are always there! Did you fall for it?
Ready to leave virtually in the Estonian territories, she with a red and white striped shirt, he as always exuberant with a shirt with futuristic squiggles.
Don't miss the usual song! For the occasion, our two super-presenters will become the cat and the fox…
Erica and Marco recently went to Estonia, for twenty-one days they were kept "in captivity", right Marco! Forced to eat delicious food and visit a wonderful country.
And they missed this country so much, but they also wanted to make it known to all the viewers of Britalians TV who have as guests two real Estonians from the Estonian Tourist Board "VisitEstonia" directly from Tallinn: Kadri and Jana!
The very blonde (natural Marco, they don't have wigs!) Kadri Gröön (the Head of International Media), and Jana Kutšinskaja (the Project Manager International Media).
They are in their office at 7 p.m. and have already eaten, although Jana would be greedy for another slice of bread, the famous Estonian black bread, a delicious speciality of this country. It's so good that Marco, as a good Estonian visitor, has taken some away and put it in his pockets, in his shirt, everywhere!
In this meeting Jana and Kadri tell us what life is like in Estonia, the great adventures you can have here.
One of the most exciting experiences is not so much eating bears (ouch Marco!) as going to see the bears in a peaceful "special hunt" from 5 p.m. to 8 a.m. in a hideout in the heart of the forest. These bears, undisturbed, can be seen eating berries and whatever they find: in short, in their natural life!
Obviously then Marco has to sacrifice himself for you, for the audience, and ask how gallant appointments work in Estonia…
We are in the north of Europe and as you know people in the north are usually more closed. And so in Estonia where women are not so open, they don't talk much, they don't open up a lot right away, but a particular place where you can invite an Estonian damsel could be just to go and see the bears in the forest hideouts, try it!
In the background, Kadri and Jane have prepared a picture for our Marco and Erica, and for all of you viewers. One of the typical swampy landscapes of Estonia, but in itself very romantic. There are these particular paths through which you can go picnicking, lakes where you can go with boats or swim, unique places in short.
And if looking at the bears is not enough for you, you can take part in "howling tours" to discover the wolves, which, despite being outnumbered by the bears, are also present in Estonia.
Erica and Marco really liked these Estonian landscapes and adventures, they liked the people, very dedicated, amiable and loving, the sports (boating, biking, swimming). Not to mention the simplicity, speed in being able to open a business, a start-up, their own business. Because actually, Estonia is one of the most digitized countries in the world, 99% of public services are online so they are really at your fingertips
What to say then about Estonia? A country of 1.3 million people, but not very well known, almost a secret of the world that is revealed by those who have visited and fallen in love with it.
Just like Marco and Erica who remember in particular the city of Narva, on the eastern border with Russia, with its castles, the canal, with the Textile Factory.
Erica and Marco visited the eastern part. The west is missing.
And then Kadri and Jana remember the relaxing beaches, the two thousand and more islands, some of which have hotels and everything for a vacation; cities of restaurants; cities of stores and cafes. And in January and February, when it's really cold, something exceptional: you can drive your cars on the frozen water and reach the nearest islands!
A country very attached to its traditions. Jana and Kadri remember the folk costumes, really traditional in Estonia, and different from region to region.
And they don't forget either, on Marco's suggestion, the famous Estonian saunas, 80° of wellness, like bathing in water at 0°, an Estonian tradition that helps the immune system and that gave us a "New Marco", a regenerated Marco!
What more can we say then? A fantastic country, with fantastic landscapes and traditions, with friendly people, kind, helpful and that has even regenerated Marco, a sort of "The return of the mummy"! Nothing, we will test the beneficial properties of Estonian treatments in the next episodes, follow us!
By Britalians TV
Written by
Marc Vezzi
TV Show Episodes mentioned in this press release
Brands mentioned in this press release
Featured Stars
Locations mentioned in this press release
Press Releases