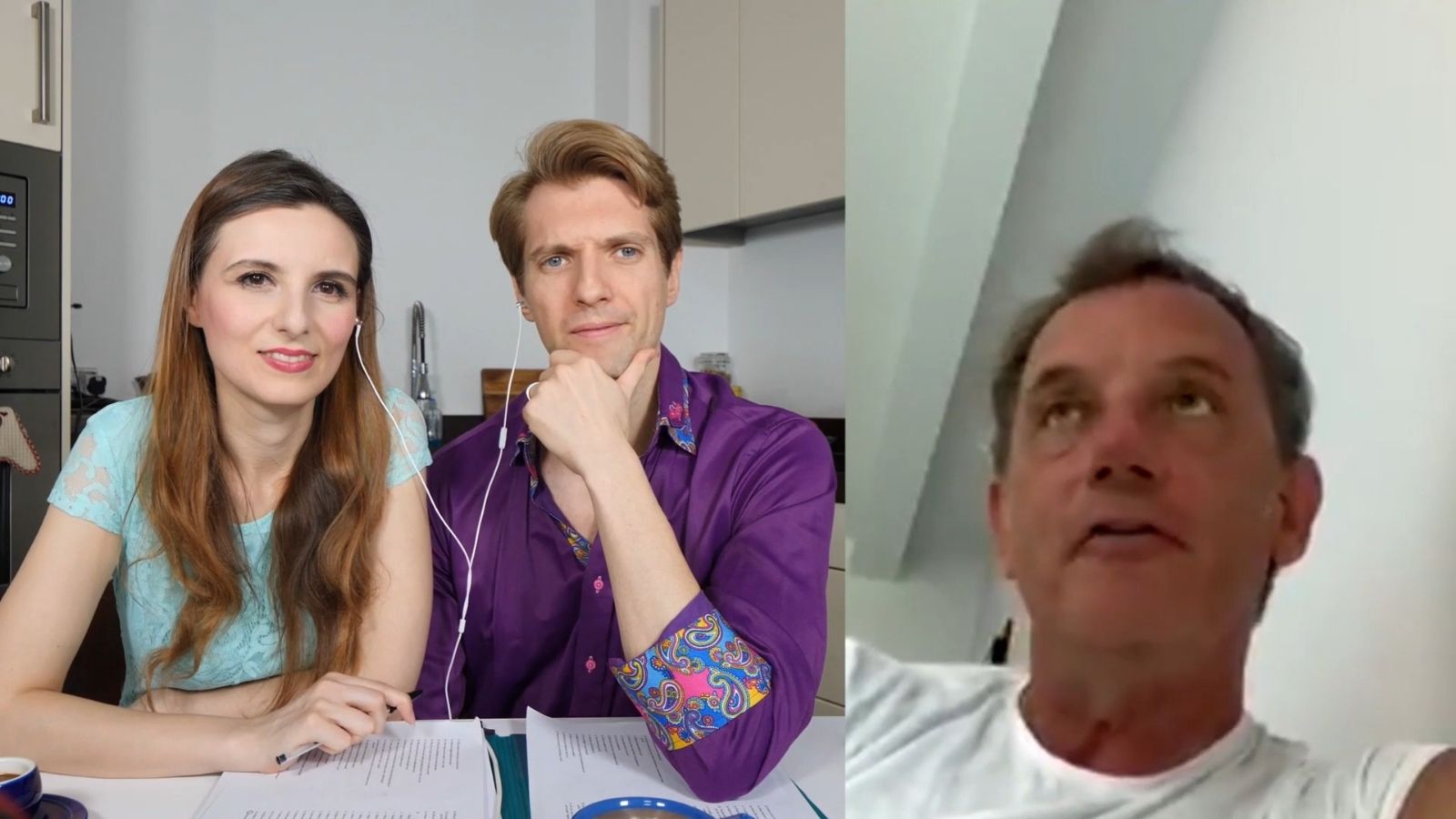 January 10, 2022 - By Marc Vezzi
Castaway of The Celebrity Island, personal advisor to Kate Winslet and friend of Lady Diana, Craig reveals a parallel world.
Good morning Britalians TV viewers!
Exceptional episode, mythical, myStic, transcendental!
First of all, because Marco solves the technical problems of connection with our guest! Finally, he too, hear hear, makes himself useful at home!
But will he ever be able to reach Erica, for whom Marco says he has a catering service (Erica's catering is what we call it), that provides him with food even at 3 a.m.?
Today's guest is a Britalian at last! An Englishman transplanted in Sicily. As Marco says, probably connected to the local mafia… but what can you tell us, Marco? He has worked with the FBI, CIA, and for Marco even Scotland Yard, but of course we know that ours may have seen too many films!
To introduce the theme, there has never been a better choice of song. The performance, as most of the times, was a bit less, but we forgive Marco and Erica. The great I Have a Dream by ABBA!
"I have a dream, a song to sing / To help me cope, with anything / If you see the wonder, of a fairy tale / You can take the future, even if you fail / I believe in angels / Something good in everything I see."
And it is with these words that our guest today is introduced! The psychic Craig Warwick!
In his first interview in English! Proud of it!
Craig compliments our super presenters on their interview with Simone Guidarelli, a world-renowned stylist (https://www.youtube.com/watch?v=3rdRhMM9IgA). A great person and a great stylist, who conveys positivity.
And who in lockdown as Craig is at the moment, entertained him.
Craig is in quarantine in Sicily, having left London in 1997. And he is known as "The Man Who Talks to Angels".
He decided to change the country and come to beautiful Sicily after having a problem with justice: he was accused of being the murderer of his friend, a boy with 6 months to live, suffering from AIDS. Craig tells of finding him decapitated and being arrested for this murder. While spending a month in prison, his friend's killer burnt down his house in Vincent Baker Street. He then had problems at work because of the scandal surrounding him.
After one year and six months, he decided he wanted to find the murderer, as the police had no clues.
He was met by his friend's murderer at his home, on the 8th floor of his new flat in Crystal Palace, and was stabbed in the throat. Ironically, Craig's calm and indeed smiling demeanour, his steady gaze in her eyes shocked him and prevented him from going any deeper. This was a professional who had killed, according to the Police, probably five other gay men in the same area. But the different ways in which the victims were killed made Craig suspicious, and he did not want to accept this version of events.
Craig cooperated in finding him through the voices he heard. In particular, at the station, a voice pointed out a camera to him. From the footage of this camera, the police found his friend's murderer following another victim.
This led to cooperation with the Police. 
He took part in the Psychic Show with Kate Silverton for three months and winning it, he was able to create his own show, A street psychic. Before starting it, however, he was asked to help find a four-year-old boy who had gone missing in America. He flew to America and collaborated in the search. He tells us details of this intricate and mysterious but interesting story, which we will not reveal in full because you can't afford the luxury of not watching this episode!
This is the first time he was able to give information to the Police to find them.
In particular, he also gave predictions, the image of a cow seen by the boy in a country where only pigs and horses are bred.
Marco: "When you work with the FBI do you have a special badge, a 007 gun? A special sports car?"
Not really, our host looks and scrutinises 'with other eyes' and directs the work that then needs to be done by the agents. For example, to find this boy he had to participate in a search in a swamp, while it was raining cats and dogs. Here a monkey was found which had five photographs of five missing boys in its mouth, including the boy in question. And it wasn't that the monkey had eaten the photos lost by the people, Marco!
He also works in these conditions Craig, in this case all wet, ruining new shoes bought in Italy. A psychic Indiana Jones. Without a whip though because on one side there were crocodiles, on the other snakes… the only solution was to run away!
Unbelievable!
Many of these stories are then included in his books. A sincere person in what he does, and he shows this even more because he never charges for it: his gift is a gift, which he is willing to share!
And which he has also shared with important people, such as Lady Diana and Kate Winslet.
Craig recounts in particular his acquaintance with Diana when he was taking part in a radio programme in Harrods. And the chats with the Lady, and her future marriage which Craig could not see, nor future children (Craig suspects she was pregnant before she died) as well as the vision of her death before it happened, predicted but wrong in one detail: the tunnel in Paris where she died is very similar to a tunnel in Rome, which Craig had assumed on the basis of his visions was the site of the fatal accident.
Craig is now still working with the London police on details of the death, which has raised many suspicions.
From Diana to Isola dei famosi (The Celebrity Island), the famous Italian reality show.
Diana had told him that she had had a dream with him as the protagonist while she was arguing with other people on an island. This was not Sicily, but the remote island near Mexico where he had this experience.
And here Craig tells us about the gruelling adventure, a programme that was not easy, abandoned, with other people to put up with, without much food, wearing the same clothes every day.
And here he started writing messages in the sand for those watching the programme and tells us about his friendship with an 8-year-old angel who was shipwrecked many years before on a boat out there.
Finally, an accident and a broken rib (Francesca Cipriani collapsed on her) forced him to retire, although he had adapted to this very spiritual life, governed by natural rhythms.
An experience that marked him and made him change afterwards. He started to be more thrifty in terms of food and clothes, and to appreciate small things such as a hot shower.
In Italy, his fame grew thanks to his participation in Caterina Balivo's programmes for three years in a row. Won over by her professionalism, beauty, friendly and caring style, he launched into this new adventure.
As well as angels, Craig also has to deal with negative essences, from which he tries to keep his distance.
Just think of what happened to him in Pentedattilo, a village in Calabria, abandoned because people detected paranormal phenomena, linked to a massacre that happened in the past: Craig tells us about his visit to the village church and at a certain point the scratches that appeared on his arms by a spirit who wanted him to come out. For those who want to go deeper than the story Craig tells in this episode, there is a link on YouTube with this scene: https://www.youtube.com/watch?v=IjJMUsHjg_k.
In North Carolina linked to the story of the monkey and the children, Craig talks about black magic, rituals for Halloween. So much so that in the very hotel where he was staying he received a phone call from a woman who gave him such unpleasant "gifts" that he had to be transferred.
On the other hand, even Marco admits sometimes to being afraid when Erica throws books at him, poor guy!
But the extraordinary things in this episode don't end there.
It's time to see if Craig also sees angels behind our two interviewers, although apart from a few chat messages he doesn't know them. So Craig sees behind Erica a man-made of lights. This one kisses her on the forehead and says that he moved on when she needed him but he never left her. He was very strong but his body was weak. He had so much time to work for and so little time to rejoice. But now he is happy where he is. And a message: "the dream you have that you think won't happen is happening. You just need to be more mentally relaxed."
Erica is obviously moved: he is her grandfather!
Marco, on the other hand, is alone in this life. We joke. Instead, he has young angels flying around him and these are children and young people who play with him because they like someone like him, a beautiful person with a great personality. And they ask him to write the project he has in mind. It's the right time to dare!
Craig very responsibly conveys happiness. Against what he suffered as a child, when among eight other brothers and sisters he had to endure the anguish of his Catholic father, who did not believe in his "superhuman" abilities, locked him in dark rooms, and forced him to move in with his grandmother.
During the lockdown Craig has become an artist, there is an angel to assist him. Each painting is different. If you look at them you'll see an angel. And the idea is that the more people look at them, the more positive energy he gets and he becomes stronger. It gains hope, strength and happiness. It will be given to charity to do good for people. Because people need this energy. They want to laugh, they need to be happy and positive. Because when we pay attention to problems, we find them. Life today is difficult. But we get up believing in ourselves. Everything is possible.
Craig now lives in Milazzo, near Taormina, the most romantic town here in Sicily. It's good food, great people, friendly. There are six islands nearby and he goes on trips out of town.
Marco: "Have you connected with the mafia?" But Marco! Obviously not, although Craig had seen films to educate himself, he didn't see any here. On the other hand, he sees Sicily as a paradise on earth. There's everything here. Lemon trees, oranges, herbs in the garden, granita, melons, tomatoes.
He doesn't miss London. He misses his family. But not the lifestyle, in Sicily it is calmer. Friendly, non-violent people. People who want to be happy.
In quarantine then people at 6 pm every evening on the balcony sing, they pass food between the buildings. They get through the bad times with a smile.
And just when there is music and dancing, there are children and animals, it is all a riot of colour: there are angels there!
To bring us to the end, there are other stories of angels that pass from funny and almost comical situations (the angel who tells the recipient that he needs to buy a new car, and after Craig's intervention actually has his car stolen), or sadder ones (the dying father who greets his son one last time before dying in the form of an angel; a son killed in Spain who could not return to say goodbye to his father), to the most touching moments (an angel-child trying to hold her father by the belt, who did not arrive in time for his death).
Very touching and personal moments. We are never alone. When you think of someone who is no longer with you, they are with you.
Marco: "Especially in Italy, where we have these extended families!"
And then the angels give us signs, so leaves falling in front of you, heart-shaped rocks, can be a message from the angels.
In conclusion, then dear viewers watching this episode you can get advice on which numbers to play in the Lottery. A lot of people ask Craig. We won't give them away, but you have to watch the episode!
Craig's pleasure is seeing others laugh. Happiness versus sadness. Craig also cares about helping bullied children, as he did as a child. Against inner pain, you have to oppose yourself and your strength. Because everyone has a path to walk!
Fantastic, magical episode! So many stories of people, who live or have lived, in the name of happiness and the resolution of their problems! And then Erica's grandfather and the mischievous angels around Marco who dances in his underwear and t-shirt… maybe something went wrong!
"I believe in angels / Something good in everything I see."
By Britalians TV
Written by
Marc Vezzi
Brands mentioned in this press release
Locations mentioned in this press release
Press Releases