Marco in preda alla teina! Ubriaco di shottini di tè, inizia a bere direttamente dalla teiera!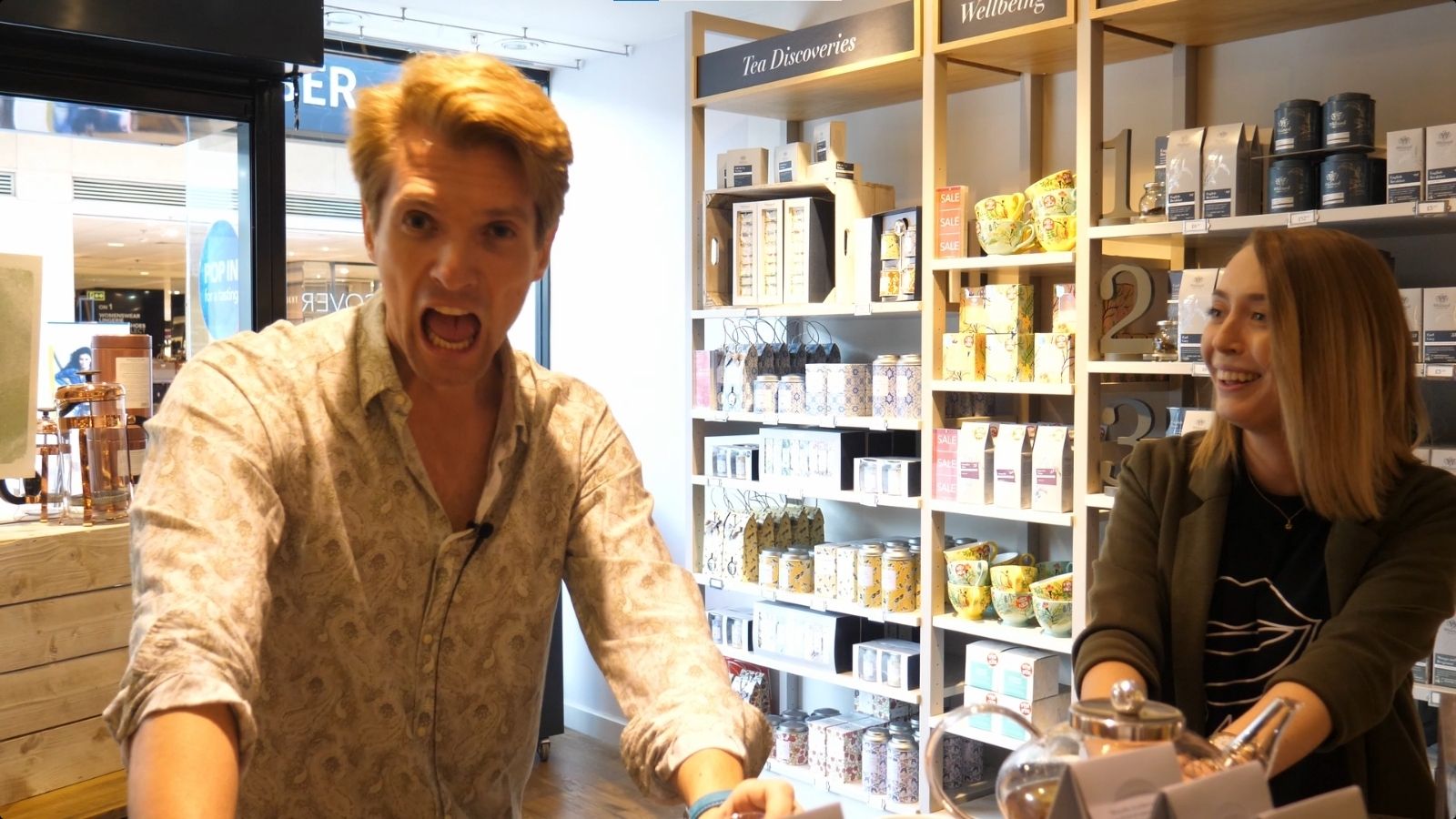 December 30, 2021 - By Marc Vezzi
Marco ci presenta il negozio di thè, caffè, bevande e chi più ne ha più ne metta Whittard of Chelsea.
Buongiorno spettatori di Britalians TV!
Un grande muah a tutti! Let embrace!
Il nostro Marco oggi non si può trattenere, scappa continuamente qua e là come una scheggia!
Lo troviamo dietro al bancone di Whittard of Chelsea, una catena britannica di negozi che vende caffè, tè e prodotti correlati.
La commessa non è la creatrice del brand, e non pensa per nulla a portare avanti l'intero business di questa azienda. Marco invece la incita: "Come possiamo fare? Incendiamo questo luogo?"
Ha già fatto alcune cattive scelte nella vita, una su una giù non conta!
Ve li ricordate vero i momenti imbarazzanti di Marco?
Il mangione e bevitore Marco non può stare con la bocca asciutta, deve assolutamente bere.
Inizia assaggiando la spezia di zucca, con la quale la commessa si è fatta il caffè: "Odora di paradiso!"
Passa al tè. Vede gli shot glasses, in cui gli verranno versate queste inebrianti bevande e pensa subito a una ubriacatura: potrà farla con il tè?
Ecco la degustazione di shottini di tè da parte di Marco: "Fantastico! Davvero forte!"
E lo potrete vedere shottinare non so quanti, e con in sottofondo un bel "Go! Go! Go!" bere direttamente dalla teiera, Marco!
Per riprendersi dalla ubriacatura qualcosa di caldo, un coffee hot chocolate tea.
È tentato di fare un altro shottino… "Ne ho fatte di peggio nella mia vita!"
Lo farà o si tratterrà, entrerà in maniera degustazione?
Vi anticipiamo solo che alla fine è così ubriaco di tè che non riesce a pronunciare il nome di questo negozio dai particolarissimi prodotti, e fugge in preda alla teina!
By Britalians TV
Written by
Marc Vezzi
Locations mentioned in this press release
Press Releases