Peace, Love and Cows: Marco and Erica meet with Street Artist DJ Barry, the Cow Guy!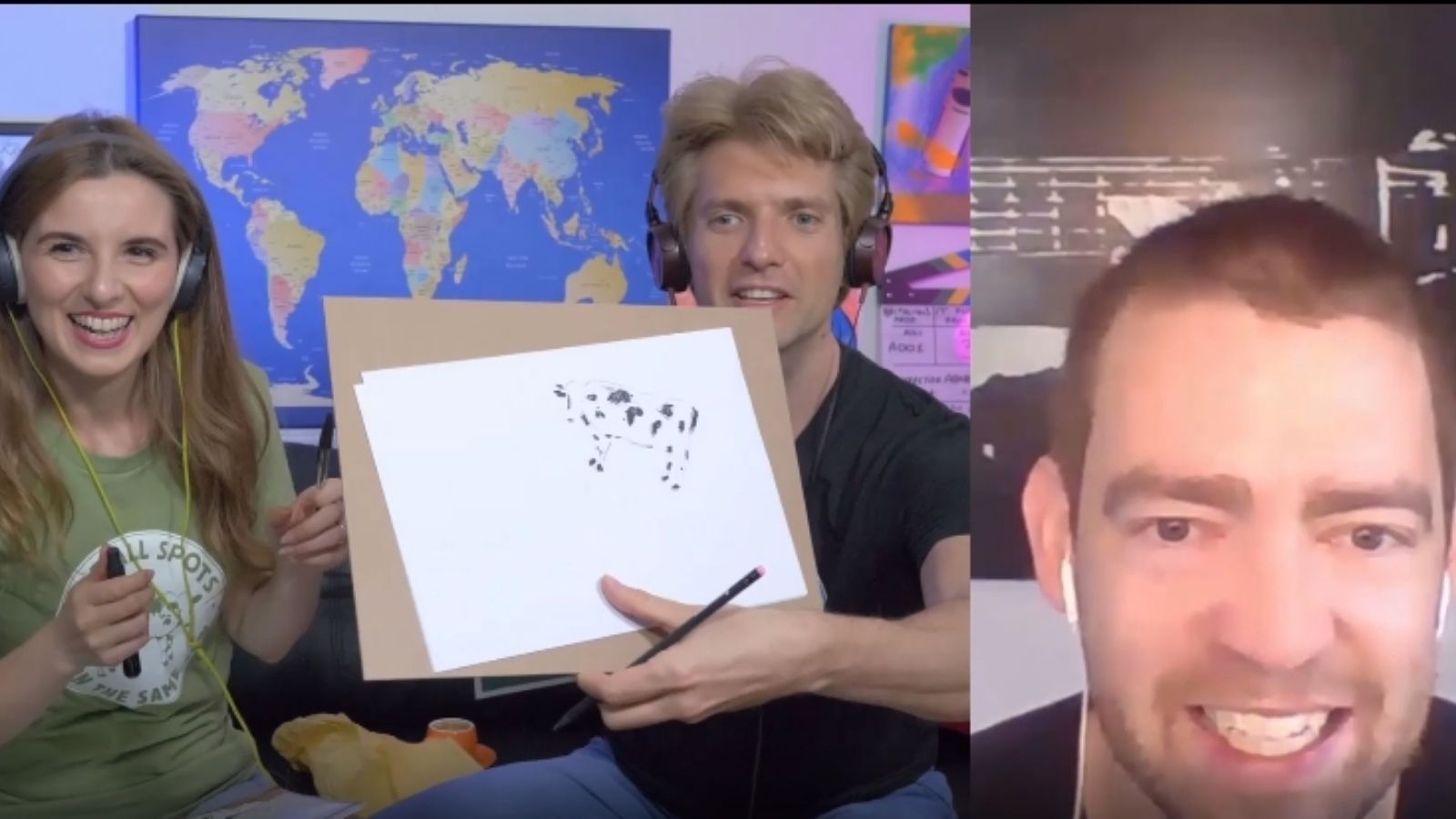 November 2, 2021 - By AngelicaVilarino
Marco and Erica #TALKSHOW – Peace, Love and Cows: Marco and Erica meet with Street Artist DJ Barry, the Cow Guy!
Peace, love and cows: Marco and Erica meet with street artist DJ Barry, the cow guy! 
If you read the name and thought this interview was about a DJ, you're not alone. Despite his name, DJ Barry is actually an incredible street artist, dedicated to spreading his message  of kindness that intends to unite the world… on a cow!
"We're all spots on the same cow"
Marco and Erica meet with the artist, who sent them packages of World Cow merchandise. In the package, they received shirts, stickers, stencils, as well as other items. They can barely contain their excitement over their new stuff and their incredible guest, and start drawing on their World Cow stencil with a pencil. World Cow is a global brand and positivity movement created by DJ Barry himself. The mascot is a Holstein cow, with a pattern of the world's continents on it. It represents unity, bringing people together and celebrating differences. The goal is to spread World Cow to as many places in the world as possible and to support non-profit sectors. Appropriately enough, their slogan is "We're all spots on the same cow" which Marco and Erica absolutely love!
"Vermont, the cow country"
Marco asks where he grew up and if his environment contributed to the making of World Cow. DJ Barry was born in the United States. He grew up in Vermont, where it's not uncommon to see cows everywhere. He recalls his childhood memories, and how Vermont is the best and safest place to raise a family. Growing up, he went through some hardships in bullying, but it made him stronger and motivated his message of spreading kindness in his eventual successful business. In 2015, he created Cows for a Cause, a campaign dedicated to traveling around the state, selling art, and donating the profits to a charity, all this while being dressed up as a cow. They wanted to give back to the community, but they also wanted to grow larger than just the States and bring World Cow to the world. 
Educating the message across the world, one cow at a time
How did he do it? He was able to succeed with the power of social media and soon had thousands of World Cows in over 25 countries. In November 2020, with the support of his wife, he left his job as an IT guy, and was able to fully dedicate himself to World Cow. He went from the IT guy to the Cow guy! Barry discusses with Marco and Erica about wanting the brand to become a household name and continuing the legacy with his young daughter who understands the importance. The message of World Cow is so simple that even the kids get it right away. Erica agreed that education is of utmost importance and spreading the message of being kind to others should be done as young as possible, to avoid bullying, 
The importance of giving back
Marco and Erica then ask, how did he get all those cows to be all over the world? DJ Barry developed connections with other artists around the world, sending them packages and stencils and he is now looking for European partners. Marco and Erica enthusiastically volunteer as they paint on their World Cow stencil and offer to stick the cows across various London like on an iconic red double-decker bus. His stencil is actually pretty good. Barry encourages everyone to safely try placing them in random places. The World Cow movement has also reached the most remote villages in the Congo area, where they not only sent World Cow merchandise to decorate, but also Vermont foods and donations, which in turn, encouraged other nearby African villages to participate. In the episode, he relates how being able to help these villages with art is what World Cow is all about, which touched everyone's hearts!
Be a part of the World Cow moo-vement 
The process of getting to the place where they are today was not easy. A big part of it was facing rejection, which Marco and Erica could relate to since they are actors. They know what it's like and know that it is important to never give up, which is why Britalians TV is here today. Barry references the iconic Michael Jordan and how you must work hard for your dreams. and did exactly that creating a global movement based on kindness, love, and integrity, and it all started with him driving around Vermont, taking pictures of cows and his family. Who would've thought? It's no wonder both Marco and Erica are so enamored with him! Everything he has accomplished is a true inspiration for young artists everywhere. It's one thing to be passionate about doing something you love, but to also be dedicated to such a humane cause at the same time, takes a special kind of human. Speaking of special humans, this is only a small part of all the wonderful things Marco and Erica discuss in their interview with DJ Barry. 
Giant cows that can be seen from space? What other animals did DJ Barry consider? Can anyone do stenciling? How does eating seaweed help climate change? What is DJ Barry's next big project? And Marco did WHAT? You can find all of this out by watching the full episode now available on Britalians TV channel worldwide.
If you wish to donate or receive your own World Cow package, go to https://www.worldcow.earth/story 
By Britalians TV
Written by
AngelicaVilarino
TV Show Episodes mentioned in this press release
Featured Stars
Press Releases