Peter Roscini Colman: The Italian-Vermonter Behind Vermont Salumi and AR Market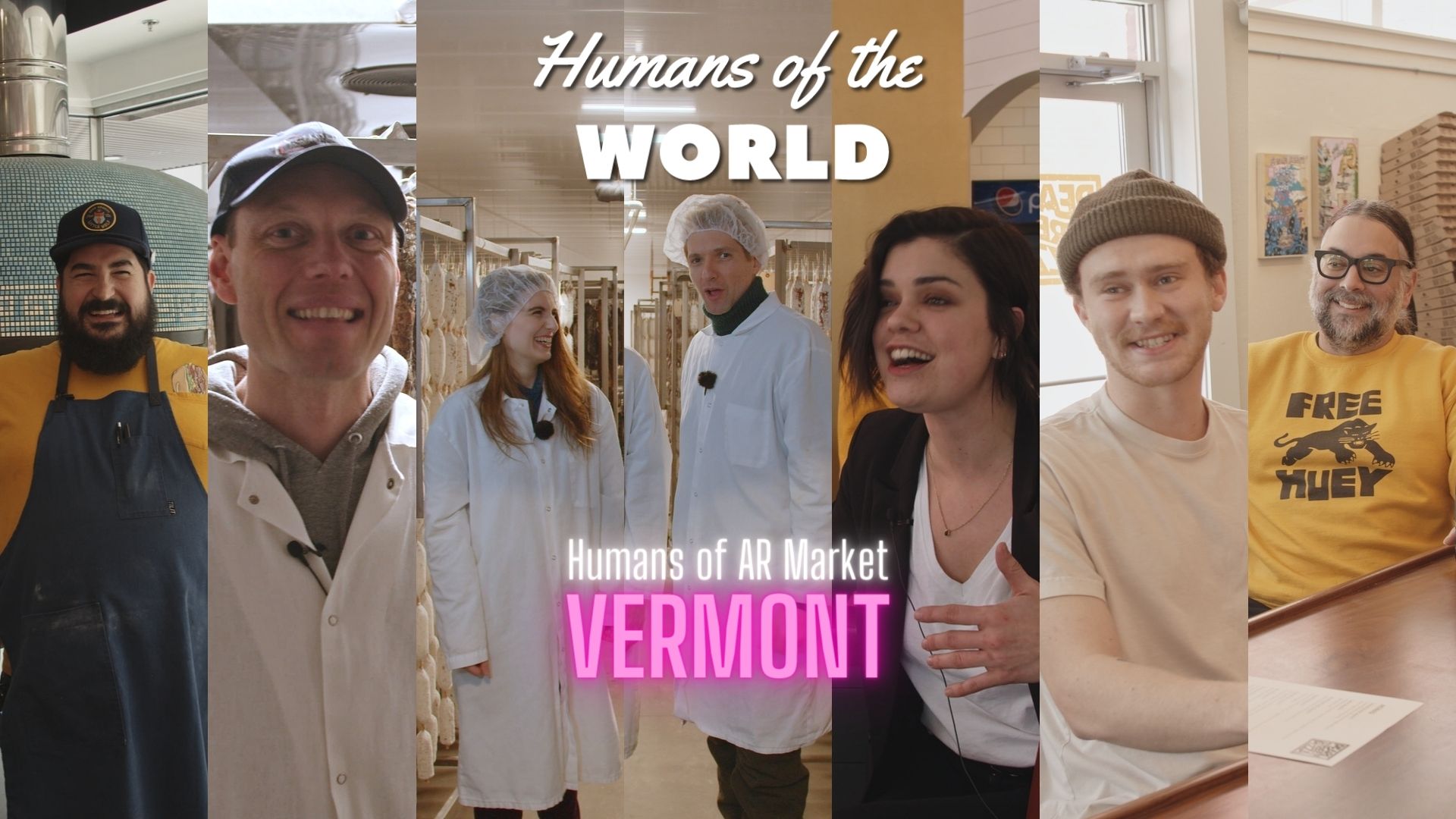 February 9, 2023 - By sydneywells
Marco and Erica venture through Vermont in the new season of Humans of the World where they interview ordinary people doing extraordinary things. They continue their journey with high hopes that they will find another exciting person to interview as they head into Barre, Vermont. Their prayers are answered in this episode where they get to sit down and chat with Peter Roscini Colman, founder of Vermont Salumi and the AR Market.
From Humble Beginnings
Peter Roscini Colman started Vermont Salumi from the traditions he was raised with growing up on farms. He grew up on his parents' farm, Cate Farm, and would spend the summers in Umbria, Italy where he would eat prosciutto until he eventually decided he wanted to make it. Peter began apprenticing with the Norcini, Umbrian butchers, who taught him everything they know about making salumi. 
"His uncle Franco introduced him to Pepe, who introduced him to Francesco and David. Soon, he was apprenticing with these Norcini, the famed butchers of Umbria, who taught him the methods, techniques, and centuries-old traditions of salumi-making."- Vermont Salumi
Cate Farm, his parents' farm, was a leader in sustainable farming and he was able to learn first-hand how sustainable practices gave way to healthy animals, healthy people, and healthy communities. It is what he learned from this farm that led him to continue the practice of providing Vermont with great food through his own company.
Together these farming experiences led Peter to start his own company focused on producing the freshest pork and beef inspired by the Italian salumi recipes and using sustainable methods to do so. Creating a healthier product made from the best ingredients and the best techniques is the ultimate goal of Vermont Salumi. 
Building Community Through a Market
"We strive to be the place where great food and community meet."- AR Market 
Providing authentic Italian meat to a community built upon Italian immigrants and culture was the main goal of the AR Market. Connected to the Vermont Salumi dry cure plant, the market sells the meat straight from Vermont Salumi and everything in between. One of the benefits of the AR Market is that it sustains the local economy and supports the people within the neighborhood.
A dedication to providing a sense of family to the customers and community lies at the heart of both of these businesses. This is something that Marco and Erica immediately pick up on during their visit to AR Market. They watched as customers, both regulars and not, be treated like family as they shop and dine within the market. Located in the same building as Pearl Street Pizza, the Italian community is thoroughly represented in the neighborhood. 
Continuing the Culture
Barre, Vermont, the location of both Vermont Salumi and AR Market, is where Peter grew up when he moved to Vermont at the age of 5. Central Vermont is known as the granite center of the world. In the 1880s, many Italian stoneworkers immigrated to Vermont to find work. This long-standing history of Italians in Vermont has created the perfect place to share the culture and traditions through food and shopping. 
Putting Art in the AR Market
In a new collaboration with the Studio Place Arts (SPA), the neighbors of the AR Market, there will be loosely-rotated quarterly art exhibitions displayed at the AR Market. This display will connect with other exhibits put on around the downtown Barre area through SPA. Arte at the AR connects with the art walk that displays modern and historic stone sculptures and is now one of five high-quality art exhibitions in Barre. 
Looking to the Future
Connecting to a community and enriching it through providing it with fresh food and a place to meet has created a family-like atmosphere within the AR Market and Vermont Salumi. This cannot be understated in a time where being close to people has grown even more important. Peter Roscini Colman has given time and effort to creating more of these spaces through partnering and collaborating with other local businesses. 
With an understanding of the importance of keeping the local economy supported, there is no doubt that Peter's dedication to his community is paying off. As Marco and Erica have learned, the value of community is very close to the city of Barre and the people who live there. They continue their adventures searching for a deeper connection to themselves and others, and they have gotten more than that here at Vermont Salumi and the AR Market.
By Britalians TV
Written by
sydneywells
Press Releases