Smoke and Mirrors author, Britalian actress Mum-ford at Britalians TV!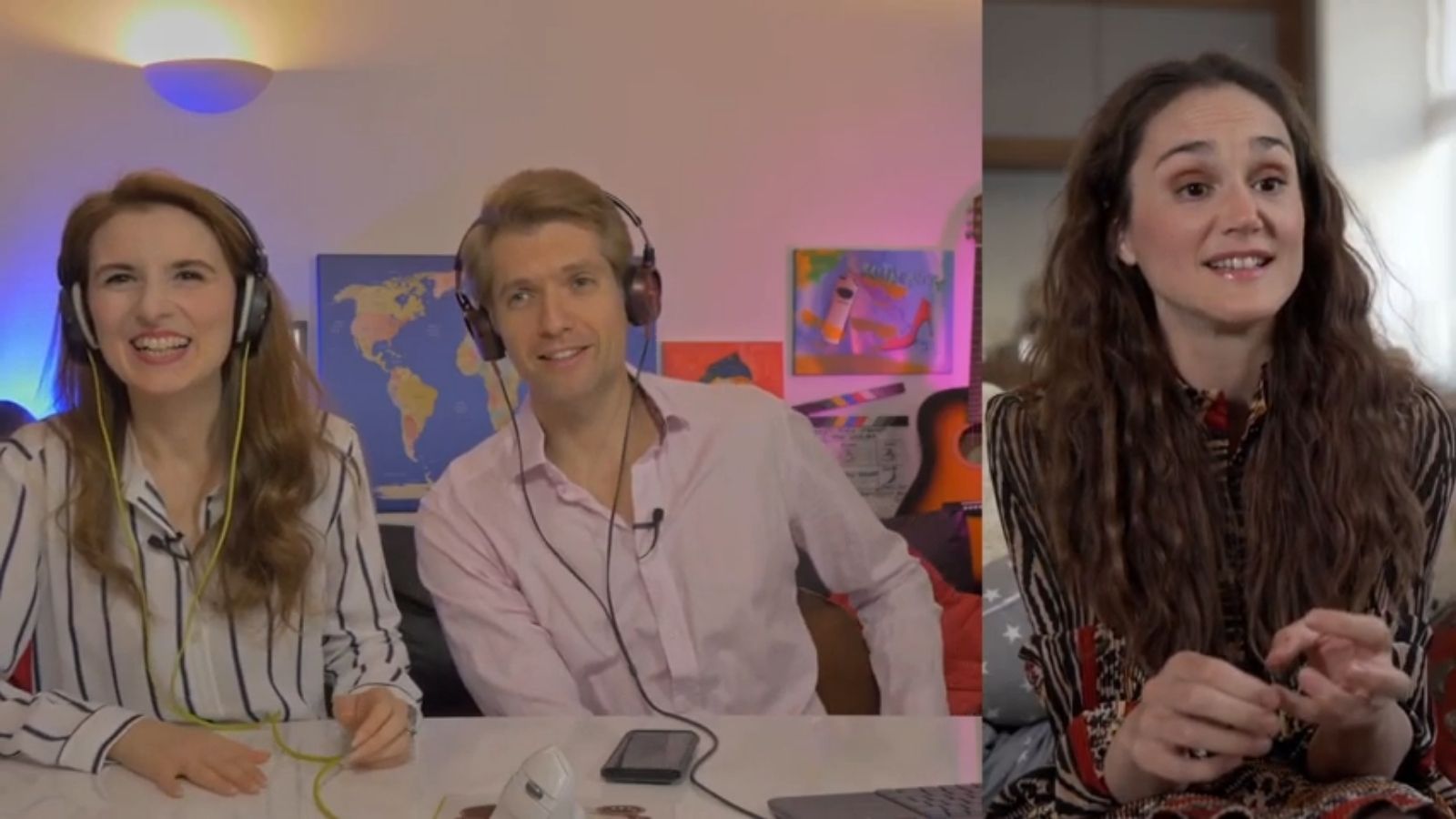 December 13, 2021 - By Marc Vezzi
How do you reconcile being a mum and being an actress, producing on your own in another country?
How this episode started.
Good morning everyone!
We open this new episode by discussing whether or not Marco is a true gentleman.
Does he make breakfast? No. Does he help around the house? No. Is he self-sufficient? No, he calls Erica all the time, so much so that even when he's taking a shower she has to sit outside the door next to him and talk to him, because he always calls her, whenever he tries to relax.
Poor Erica!
The story of a woman with countless occupations.
The guest in this brand new episode is a woman who has visited us several times. This time from a distance, a Britalian. Half English, half Italian. She is an Englishwoman living in Italy, while our Marco and Erica are Italians living in England.
An actress, protagonist of fresh new web series.
Recently the 5 episodes of Smoke and Mirrors, a web series for which she is an actress but also a writer, came out.
Marco: "She knows everything, and she does everything!"
Welcome to actress, writer, producer, and you name it Holly Mumford!
In this episode, our focus will be on how Holly manages to reconcile her profession as an actress with becoming a mother (as you will soon discover). And in particular, at this fantastic time in her life, how she managed to produce the series Smoke and Mirrors, which we will talk about at length, in a foreign country. And all this thinking nostalgically about England, between one bad joke and another by Marco, bringing out the authenticity of a dream on the way to becoming reality.
Away from England, a tear drops.
The last time they met was not 20 years Marco, but 2-3 years ago.
Marco, in the meantime, has changed his hair colour, from 6 to 8. A big jump! An applause!
A lot has changed in his life since then. He used to commute between Italy and England.
Since 2018, however, she has been permanently based in Milan, having had a baby girl, Maggie.
She had settled with the stork for this new arrival, but as always having a baby makes your life more complicated and difficult, more challenging.
But what does Holly miss about England?
Her parents but also her cousins and her big family in general.
And the English countryside with its colours and scents!
Marco: "What smells of the countryside? Like horse poo? Can you recreate this environment in your house? Clever question!" Marcoooooo!
And finally the tea: as unique as the English one she has never found! And it comforts her in moments of nostalgia.
The serie Smoke and Mirrors.
Holly wrote and created the Smoke and Mirrors series in 2018. Tired of waiting for opportunities that weren't coming, she wanted to create her own.
She stopped being afraid and took her destiny and what she really wanted to do into her own hands.
She took courage and in 4-5 months from January 2018 she finished writing the script.
Important in giving her courage was her husband, who helped her with ideas and suggestions.
This is a love story where, however, the characters are fictional, she did not take inspiration from her relationship with her husband to create them but they are the product of meetings, readings, experiences (of friends above all, not only Italian but also French, American, Australian, English, Scottish, Irish).
With perseverance and determination, therefore, she has succeeded in her work.
But she tells us that she was also lucky because as soon as the writing was finished, it was time to find a filmmaker and actors. She found fabulous people and a true and intense artistic collaboration was created.
She found an extraordinary director through Facebook, Daniele Russo. He understood what she had imagined and turned what was written in black and white into something visual.
In this series, you will see what life is like in a couple's life, the possible misunderstandings, arguments, moments of crisis.
But also that these can characterise all couples, it does not depend on how the couple is made up.
For example, also Marco and Erica argue and Marco is beaten by Erica on the floor, we can see that!
As Erica says, it's the perfect mix of comedy, drama, real-life: it's all there, it's perfect.
Holly then tells us that her husband didn't tell her off for scenes that never actually happened between them but he loves the show, he's proud of it.
Holly has won awards for her work, as a web series, as an actress and as an original story. A round of applause!
Marco: "How did you win that? Did you write to someone?"
This is because when he finished the project, he felt the need to take it to the people. So he presented it at various festivals. At the Milan Gold Award, for example.
This action can bring you recognition but you never know if your work will be appreciated or not, especially in this case where it touches on such themes.
Her next wish is to transfer this web series into a real TV series and to generate even more interest.
Then being a non-famous actress she has to look for someone to produce it. She will then try to harass and stalk the producers (she jokes) by pitching her project to get the budget to develop it.
Holly is at the right time in her life to do this. She has quality, she's talented, she's on the right track.
She confesses that she became aware in her 30s. The birth of her daughter has given her great strength and vitality.
Marco: "I also want to give birth to feel full of strength!"
Holly, therefore, focuses first of all on raising her daughter, moments that will not return. And she only focuses on interesting projects that she really wants to pursue.
Food and wine curiosities from the Mumford household.
Being in Italy Holly eats the traditional pasta but, listen to the sacrilege, she prefers a loaf of bread to it! Marco also loves bread so much that in his car there is a breadstick instead of the handbrake. So when he is hungry he eats.
Holly's husband, however, eats pasta. She is literally in love with taralli, however. She ate them once at an aperitif in Italy and was immediately smitten!
Interesting fact. Holly's husband is from Veneto and imagine: his house is like a wine shop.
When they have lunch there is no water, only white wine!
Marco: "An applause for living life well!
Erica: "Living with other cultures!"
Holly's Dream: Smoke and Mirrors TV series.
Holly's next dream is therefore to turn her Smoke and Mirrors into a real television series. Here, in fact, she will have the opportunity to develop the topics she has just sketched out, exploring the characters and developing the most absurd situations.
Marco and Erica wish her the best, and when they are in Milan they will go and have a spritz with her!
Marco: "Let's get drunk! Let's do it!"
A mother and an actress, a budding producer: pursuing and achieving your dreams!
A fantastic mum, who after the interview two years earlier maintains the same power, energy and creativity and has found a new project to direct her life towards.
What more could you want!
So if you want to pick up tips on how to reconcile the roles of mum and actress, want to produce something of your own in a foreign country or in any case listen to a testimony of life where dreams and their realisation are the keys, don't miss this episode!
By Britalians TV
Written by
Marc Vezzi
Brands mentioned in this press release
Locations mentioned in this press release
Press Releases