With Santa on the Hunt for the Northern Lights: the Story of Filippo Dias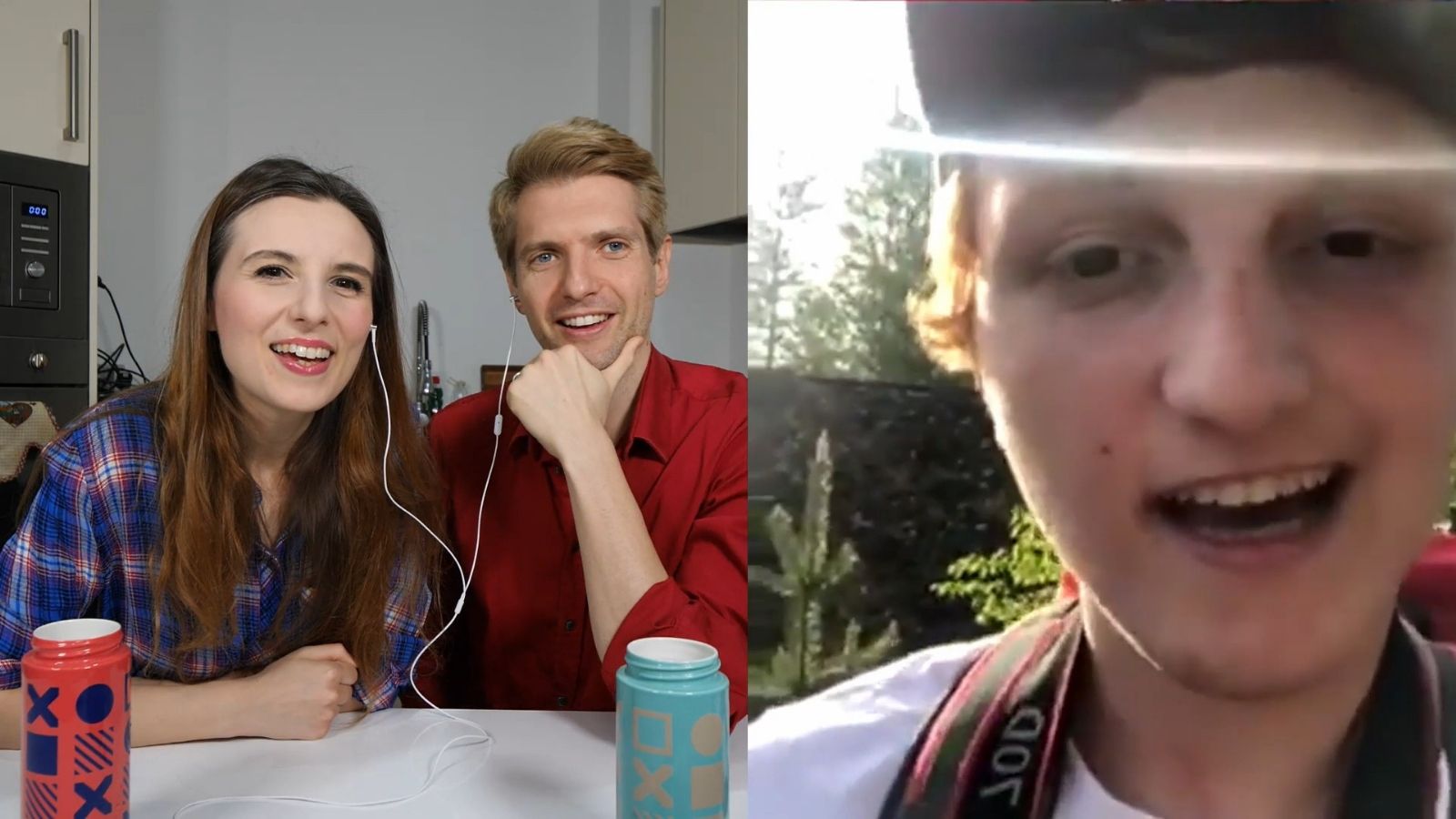 November 29, 2021 - By Marc Vezzi
From Brazil to Lapland: Young Filippo's Dream Come True
Good morning Britalians TV viewers!
Today's special guest is a very young man who has made a life choice that will be forever. He's doing amazing things in the world. Here he is, the Brazilian Filippo Dias connected…listen carefully…from Lapland!
To introduce him to Between 2 Italians, the usual theme song: a sweet, honeyed, amazing Santa Claus Is Comin' to Town.
Filippo is immersed in nature, in the forest of Kolari near a river in Lapland, Finland.
Marco: "you are very young, you are 10 years old right?"
Filippo is 18 years old, travelling with company, in particular now he is on his way to a local farm. Here they carry out a sustainability project, they plant trees and get to enjoy their fruits. A very common practice in Lapland, where people try to self-supply, hunt and grow their own food and eat the fruit of their efforts.
Here it is also common to hunt: Filippo explains how reindeers are so numerous that they are often the cause of road accidents.
Filippo is Brazilian, but with a Nordic soul as he remembers. He arrived here through cultural exchange. He didn't want to go to the USA or Canada, since many of his fellow countrymen usually choose those as their destinations. He wanted to have a completely different life experience from the one he was used to in Brazil. And so Finland came to his mind and he managed to make this dream come true. Now he considers Finland his native land, he feels at home, he has learned the local language, and he has been living there for two years. It's wonderful to have as a guest a citizen of the world, such interesting and surprising crossings of cultures that happen precisely because we are all guests of a big family.
The environment is very different from the original one: there are reindeer, bears (the latter especially on the border with Russia), birds especially in summer.
Coming from Brazil, however, what made him fall in love with Finland was the aurora borealis. So much so that he now has the best job in the world: he's an aurora hunter! So he is a guide to go and see it in the wintertime. The best job ever!
No Marco, our Filippo has never noticed paranormal activities such as aliens, spaceships and so on. Certainly, however, is so much wonder, amazement, the beauty that arouses the northern lights, especially when it has colours so bright that it seems almost coming towards you, a sort of divine light as in the movie Ghost!
The "season" of hunting the aurora begins in the winter period, around 7 p.m. they prepare for the show, which sometimes takes a long time to arrive. In the meantime, they stay close to the fire and cook a typical Finnish sausage, the Makara, which is what the Finns wherever they go must always bring with them.
Everything is safe because despite being in the middle of the forest around the fire, usually, bears are hibernating, while the reindeer are calm, trying to avoid human contact.
Marco: "Did you see Santa Claus there?" At this point everyone must be wondering inside, "Marco, will you stop with these fanciful questions? I mean Santa Claus doesn't exist, even the children know that!" Instead, this time we have to recognize Marco for having asked a pertinent question. Santa Claus is Filippo's neighbour!
Filippo lives in Rovaniemi, the city in Lapland where Santa Claus actually resides. Not a big town, calm, surrounded by nature. And there is the Santa Claus village, where you can go to say hello and talk to him in person!
Filippo has really integrated well and for now has no idea of moving from there.
He hasn't found love yet but he would know well how to conquer some maiden, right aurora hunter? The aurora, but also the stars, the Milky Way even: in short, Finland also offers many opportunities for free shows for romantic dates.
And think that even in London there is the possibility to see the stars, Marco sees them, together with planets, galaxies etc. when Erica gets angry. Although they may not be as pleasant as the Finnish ones! Amazing!
Filippo is also a photographer, and he usually tries to capture these unforgettable moments. Important for the aurora borealis is to have very wide lenses to capture the entire sky in your shot and that the lens can take as much light as possible, on the stability of a tripod.
His creations then can not yet be seen on his own site (he is working on it) but on his Instagram page and on the pages of a social media photographer called "500px".
Of course, Filippo is a student, so, he can't hunt auroras even while travelling the world. So he tries to take the opportunities he has to see them in Finland and then he is ready for this adventure.
In the meantime, as he talks to us he is walking through the forest to this farm and is happy to be surrounded by locals who introduce him to these special places and tell him so many stories. For example, one thing that has stuck with him is the story of what the people and families in Rovaniemi experienced in World War II: the city was mostly destroyed. Real and lived stories!
Lots of things to see and discover here: Philip saw the igloos!
And he had the chance to meet the Sami, the indigenous population of these lands. They have a special way of dressing, special coloured and beautiful clothes for special occasions, all to be… stolen as Marco would say!
Filippo also tried to wear them but he didn't understand how this was perceived in the eyes of these people. Therefore, he would like to know them more and more, since they are the first inhabitants of these lands. With their incredible culture!
Moving on to the food, Swedish food is not the best in the world, but to make the audience a little peckish, think of salmon, potatoes, many varieties of bread, blueberries with which they make the cake, the Mustica piraka.
Applause for getting us off the diet one more time!
Moving on to linguistics-glottology, our Marco and Erica are very surprised by Filippo's spontaneity in speaking Finnish. A complicated language, but one that he is already mastering, also thanks to an excellent school system, and he has integrated very well!
We can almost say that our guest in these lands is native by now. He hasn't been back to Brazil for two years, to his parents whom he only hears by phone. He wanted to leave in the summer, but Covid stopped him.
On the other hand, his parents have been to visit him in spring and they still keep in touch.
But really Filippo is so much a Finn now that he doesn't even bother to find out if there is a Brazilian community in Finland: he feels Finnish!
Moving on to interpersonal relations, of Finnish culture Filippo loves the respect there is between people, and the fact that they keep their distance from each other, so much so that with the Covid there they jokingly almost reduced it from the 5 meters that are canonical for them to 2 for the virus.
So respect, mutual trust and living with nature, in symbiosis. Already from an early age, the Finns live in contact with nature, they are left to play outdoors in the snow even if it is winter and low temperatures.
Meteorological chapter. Temperatures at Filippo's can drop as low as -30°. The lowest he experienced was -38°. The feeling he experienced is a particular way of breathing, not too deep because it comes naturally to cough.
And the importance of proper clothing, otherwise there is the risk, as it happened to him to freeze and "burn" with the cold his little finger, and feet.
Fascinating and healthy experience instead of the bath in cold water, the Avanta. An energetic bath, which gives you energy, makes you feel good and is very useful for blood circulation.
So if you are interested there are special places where you can try this experience, maybe with a nice polar bear nearby.
Awesome guy, inspiring. Who shows the ease with which he mixed with the local culture and once again proved the assumption that we are citizens of the world, we are all equal, each with our uniqueness, which put together give life to the great wealth of the world!
If you want to find out more about Finland, listen to this boy's fantastic story of integration, see Marco making noises like a child passing his index finger over his lips, don't miss this episode!
By Britalians TV
Written by
Marc Vezzi
Brands mentioned in this press release
Featured Stars
Locations mentioned in this press release
Press Releases