Humans of the World in Cagliari: The People, Sights and Sounds of a Lively Town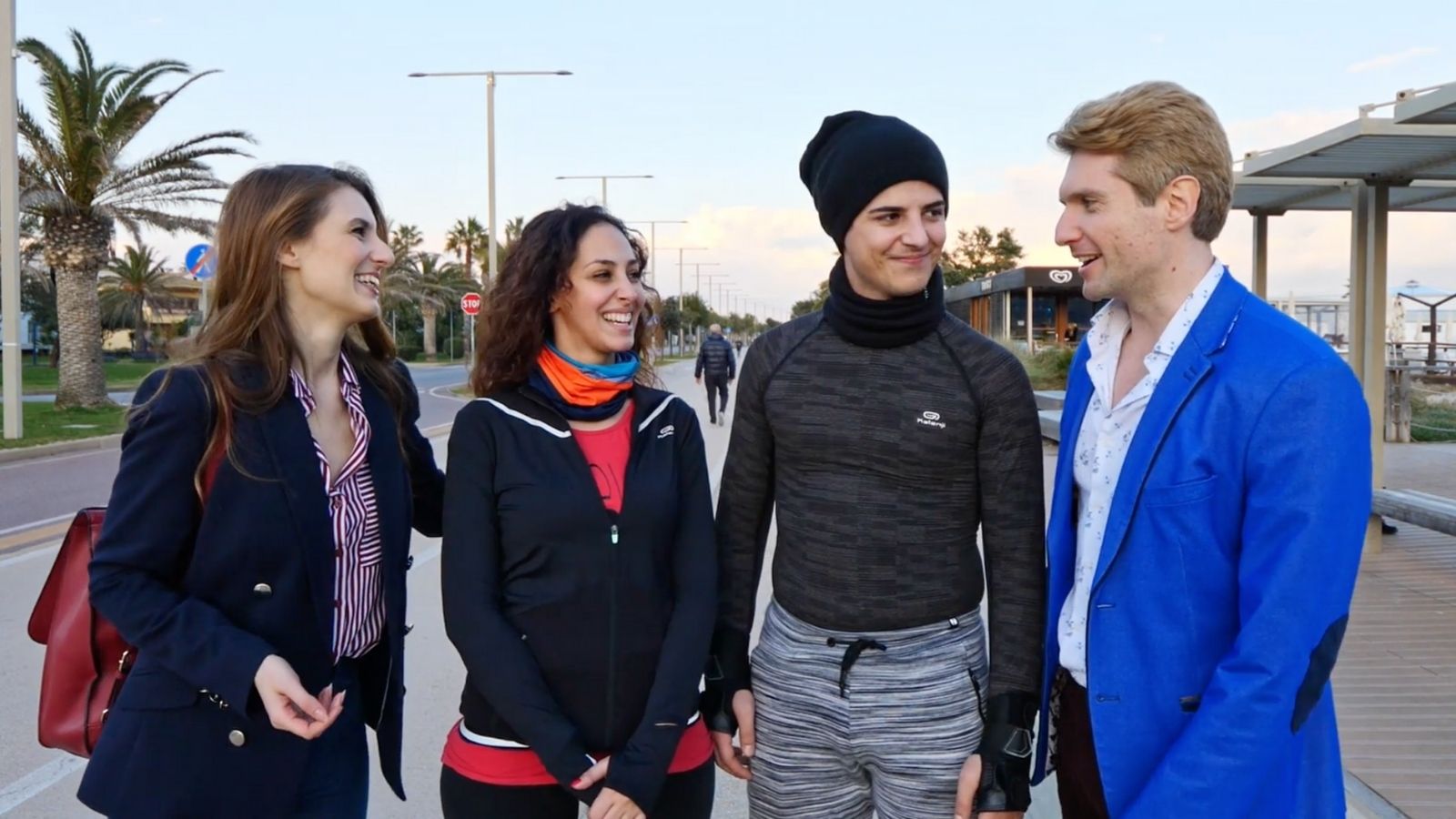 May 20, 2022 - By AnumitaBagchi
Marco and Erica's Sardinian journey continues for a second day in Cagliari as they explore the different peaks and sites of the wider city. From the calm of meditation to the excitement of breakdancing, our adventurous hosts try out various activities across the cities, meeting new people as they go along.
The first people featured are two tourists, Andy, from Norfolk, and Alexander, from South Austria. Starting off on a much more relaxed note than usual, Marco and Erica indulge in some deep meditation at the instruction of Alexander, after he explains how his career changes led him to being a spiritual teacher, naturally accompanied by Marco interrupting with some little jokes to lift the mood! Alexander shares his wisdom on keeping the mind focused during your actions, and then Marco and Erica are off to see some sights! 
The pair head up to the top of Monte Sant'Elia, which is known for its incredible views, which you really ought to tune in to see. Erica explains that the stone structure on top, often known as Forte du Sant'Ignazio, used to be a lookout post for times of conflict, and later as a quarantine shelter for incoming seafarers. From the fortress, one can see many of the other major sites of Cagliari, including Monte Urpinu, Monte Claro, the medieval castle of San Michele and Tuvixeddu, the Punic necropolis. 
After capturing these beautiful views, Marco and Erica head down to the Poetto Beach, a popular location for walkers, cyclists and people just chilling out. There they meet two actors on rollerskates, (another) Erica and Stephano, who love to spend time by the sea, and offer some very convincing performances. If you thought you were going to miss out on our presenters' wonderful singing, fear not- the four give us a rousing rendition of Nel Blu, Dipinto di Blu by Il Volo! 
Next, some university students talk to Marco and Erica about dating, fighting, and the nightlife of Cagliari. Soon after, a group of men at a local bar in the Piazza Yenne show them just how friendly Sardinians are, sitting down for a nice chat with our hosts. These men are from a tiny village of only 385 people, but they still have some pretty good advice on picking up girls! If you watch the full episode, at this point you will be treated to the story of how Marco and Erica met and got together, so if that is not a good enough reason to watch, I don't know what is!
By Britalians TV
Written by
AnumitaBagchi , Anumita Bagchi
Press Releases