Soaking Up The Sardinian Sun- Day 2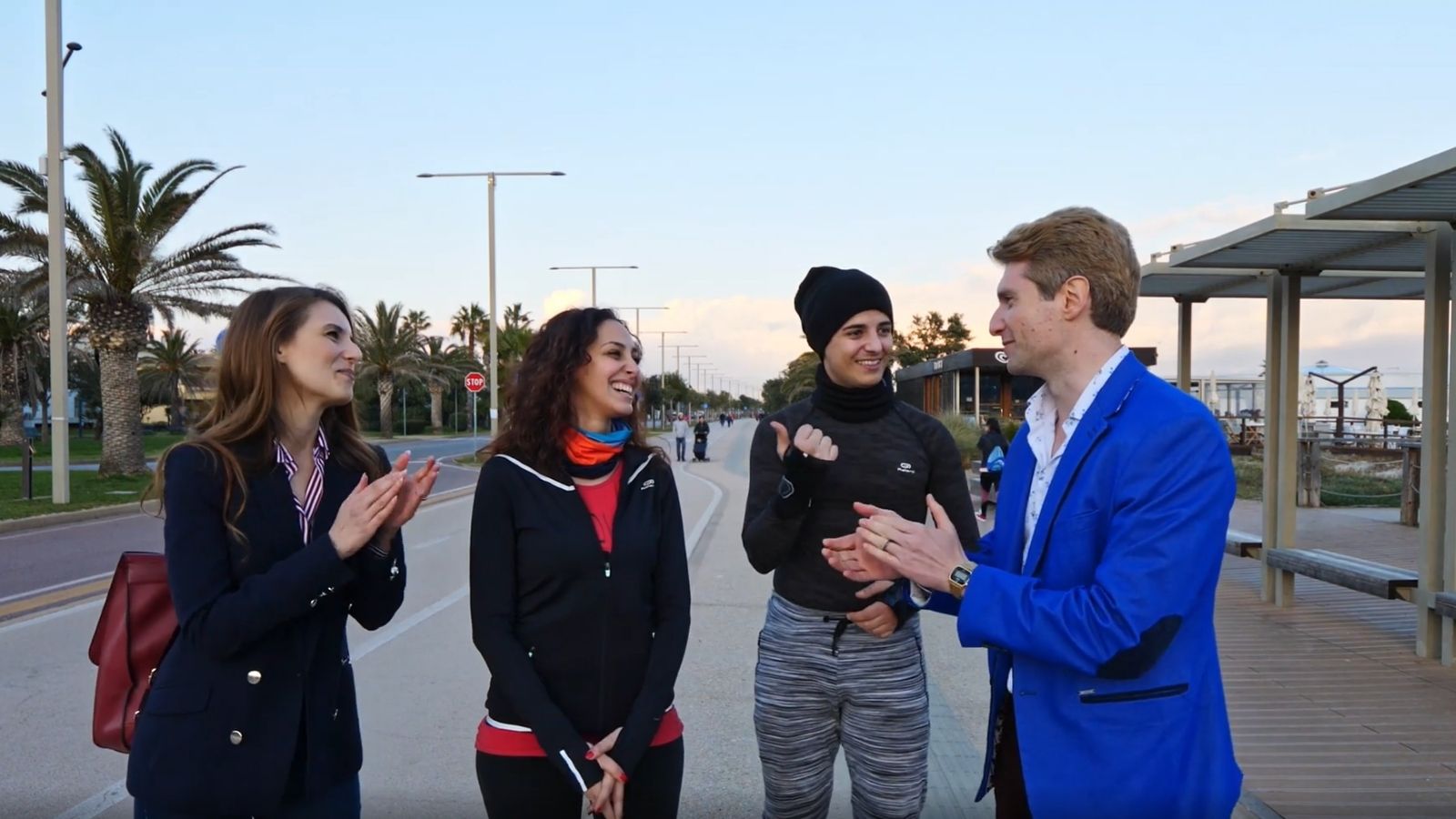 July 18, 2022 - By Emeka Diamond
Coastal Groove
This entry in the sun soaked setting starts off differently from how one might expect…with a boogie. Although only 2 episodes into the series, it feels like Humans Of The World has truly found its stride. It knows that the audience understands the format will be different from what they are expecting and the presenters lean into this, joining in with the dancing and festivities. 
The format of the opening is different and caught me off guard as I wasn't expecting it, (a surprise to be sure, but a welcome one). It starts off with showcasing a variety of dance forms such as breakdance and salsa. With the breakdance segments slowed down to show how high energy it can be, the salsa dancing is played back at normal speed to show how controlled and connected the pairing in this dance has to be. The camera is still, and the angle is side-on allowing the viewer to digest every spin, turn, flip and roll.  It helps that the spot they've chosen is splendid and visually pleasing- the marble floors, the granite podiums, the street lamps invoking a 1940s feel (in the night time it must look picturesque against the backdrop of the hill overlooking the coast) and the arch positioned just off from the centre of where the camera is positioned, giving it a feel of lived in history as well as showing how the architecture has changed over time in the town, but some monuments, (such as the arch), have stood the test of time. 
A question I wasn't expecting is then asked by Marco: "Do you meditate?". I was taken aback, I didn't expect it, but I'm glad that questions such as that are being asked. Ever since the pandemic, mental health awareness has been brought to the forefront of many conversations and people are more open to start a dialogue about their own mental health, how they've struggled and what steps they take to help improve it. The dancers Andy and Alexander expanded upon their own dance experience and stated how dance and mental health are linked to a person's happiness and well being. 
Like the couple from the first episode, they have both come from afar to visit the wonderful Cagliari. Andy comes from Norfolk, whereas Alexander comes from South Austria. Although they are from different countries, this further shows how much of a community spirit there is in dance and how it can transcend borders. They are also teachers and discuss how other forms of movement such as martial arts, can help with fluidity and exercise. 
"All The World's A Stage"
Then taking a brisk walk through an abandoned medieval castle and closer to the coast, they come across a route with a large stretch of road. It went on for further than I could see. I imagined all the tourists and families that would put on a pair of roller blades and whiz on by being able to take in the vast blue Mediterranean Sea under the sweltering sun. Marco and Erica encounter another couple who happen to be artists, their medium being acting/performing. The space along the coast seems to mirror their personalities- depth, warmth, intrigue and balance. Their beaming smiles, jokes and enjoyment shine through. Their medium of acting/performing is put on full display as they introduce themselves. This is demonstrated when tasked with laughing convincingly, (which they perfectly show), and crying, (which is again spectacularly done, it was very convincing). 
You, Me & Cagliari 
An aspect of Cagliari so far that I was glad to get more insight into was from young people who live there.
Two students who study engineering live in Cagliari and help to give the presenters more insight into what the town is like. They both embody the town of Cagliari perfectly- they are laid back, well spoken and open. 
I have noticed that everyone in Cagliari has a warmth and energy behind them which is not boastful, but is more of an unspoken pride for Cagliari. The town has so many pleasant and friendly people, (being from London where everyone seems to be in a rush and passive aggressive about everything from transport to politics to sports, it feels like a breath of fresh air watching this series).
Rumination In The Square
As dusk has fallen and the night time street lamps have lit up the square, Marco and Erica sit down and have an informal chat, as well as a drink, with a group of four guys. The weather may be chilly at night in Cagliari, but the banter is sure to warm them up. 
They have only just met, but the humour and honest answers to the questions put to them seem more like a group of old friends who haven't seen each other in a long having a drink in a pub, reminiscing on their time all growing up, rather than a group of strangers that have just met two presenters. But that's the beauty of the hosting skills from Marco and Erica, they instantly make everyone who they are interviewing feel relaxed and open to answer questions. They do this masterfully through their disarming use of humour, sharing personal details about themselves, (especially on Marco's part), and not taking themselves too seriously, (they also joke about themselves in a way that isn't self deprecating and reaffirms in the viewer's mind that they are two people asking the general public questions). 
It is clear that the presenters are inseparable with the way they answer the question presented to them by one of the guys- "Who made the first move?". Both with beaming smiles on their faces they both joke at the start, (with loving glances), and answer they met while shooting an advertising campaign. With Erica stating "She took the emails of everyone there", because of the work. But, the viewer and group of guys almost want to give a knowing glance at each other to say "It's clear these two passionate, caring and driven people saw the potential in each other and are still here stronger than ever after all this time". 
Another Day In Paradise
It is now so clear that it doesn't matter who they are interviewing, whether they are a government official, (the mayor), artists, chefs, bartenders or students, Marco and Erica make everyone feel welcome, (like going home for Christmas to visit your family). This is helped with the balance of Erica's more serious and formal questioning and Marco's laid back more humorous approach. 
A running segment I love from the two episodes I have seen so far in this series is the matchmaking that Marco tries to do, asking any two groups of people if they have ever fancied each other. Perhaps love will blossom? But I guess one can dream. 
Something I thought this episode could have done with is having another cooking segment. As the episode commenced I was expecting another fabulous cooking tutorial to appear. However it didn't, and I was slightly disappointed. Only two episodes into this series and I already feel like the cooking tutorial is sorely missed. I was intrigued to find out how the dish by the coast and the one from the town would differentiate. I already have lingering questions such as: Would fish be a main dish closer to the coast where it is caught? Is the food more expensive by the coast? What is the signature dish by the coast? Hopefully there should be a cooking tutorial in the next episode, but I will have to wait and see. I'll be keeping my fingers crossed with my knife and fork at the ready, just in case.
By Britalians TV
Written by
Emeka Diamond
Brands mentioned in this press release
Press Releases