Treasure of all kinds- Day 2 of Humans of the World in Bosa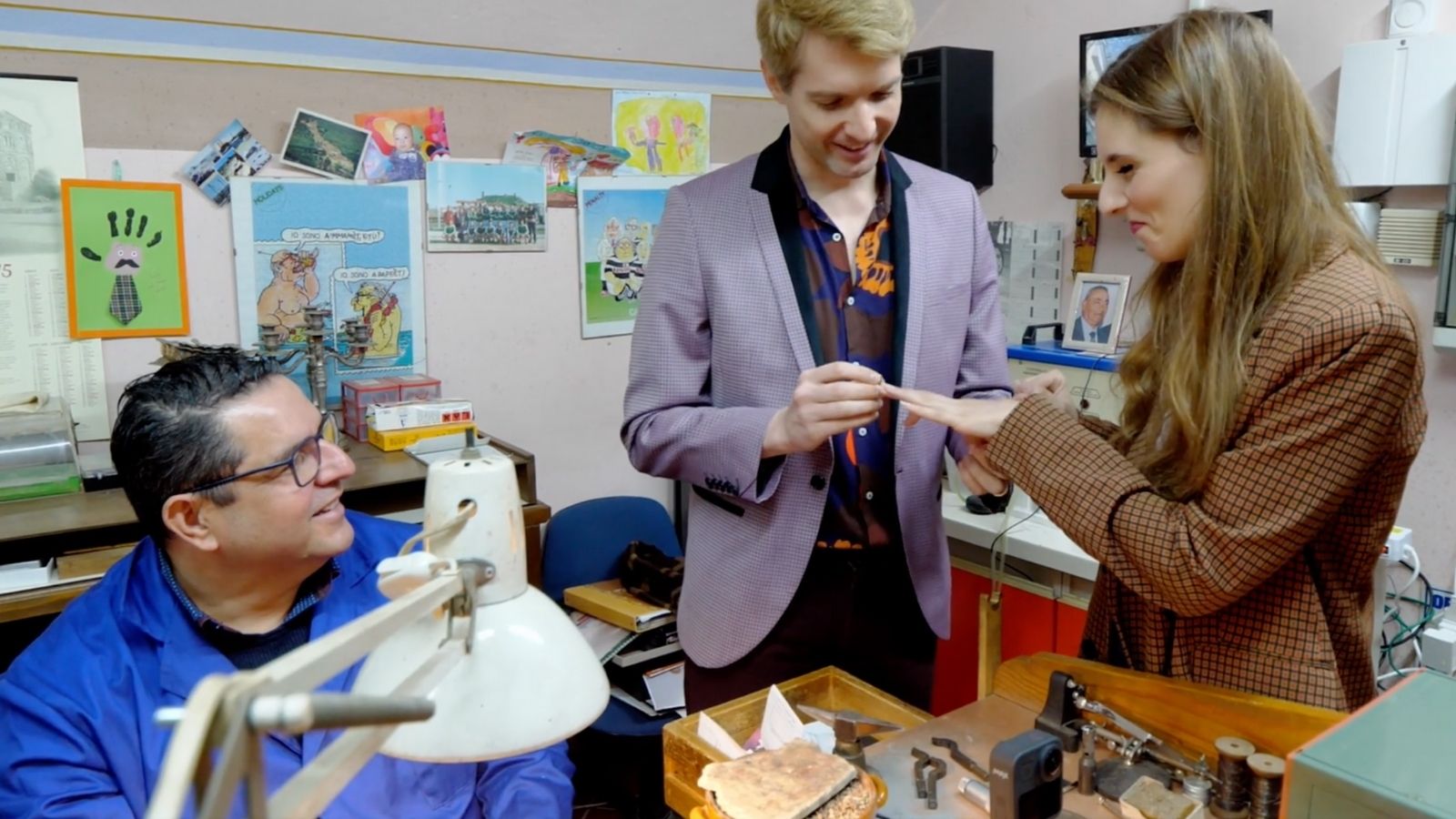 May 24, 2022 - By AnumitaBagchi
It's day two for Marco and Erica in the Sardinian town of Bosa, and this episode will show you the true heart of the town, both historically and culturally. From fishermen to jewellers, Bosa is full of amazing people who open their lives to Marco and Erica as they connect with them.
Marco and Erica start their day at the Castillo di Serravalle, which was built by a Tuscan family in the 12th century. It is located on top of the hill of Serravalle, and as a result enjoys incredible rural views, which you can see in the episode. The first interview is with Maria, who works for the Cooperative of Ancient Treasure, and talks about the personal fulfilment that her job offers her, and how she started out in the field. Maria shows us the incredible artwork inside the chapel at the castle, including an original statue from 1847! 
Next, we meet two fishermen, Fabio and Alessandro, who are preparing fish, down by the waterside. They talk to Marco and Erica about their families, football and how unfortunately, Alessandro's wife doesn't even eat fish! After that, Marco and Erica enjoy a lovely lunch with some local people, who help them to get ready for the carnival. Then, a man named Pepe in traditional costume shows Marco and Erica one of the oldest houses in Bosa, built right on the river bank. After a quick song with Fabio (not the fisherman, a different one!) they head down to the cellar, where Pepe explains that his parents and grandparents before him have been making wine and bread for years, and shows us his wine making equipment. 
Erica and Marco then visit the jewellery store and workshop of Stefano Rugio, who shares that he has been working with jewellery for an incredible 30 years already! He warns Marco of the kind of nasty injuries he could get while working with his machinery, and shows us the different tools that he uses to make the beautiful rings that he sells. Erica marvels at the use of Sardinian tradition that goes into Stefano's craft, while he stays focussed and creates such beautiful results. 
It has been a lovely two days in Bosa for Marco and Erica, and they are truly warmed by how kind and welcoming its residents have been. They are sure to come back here soon, but in the meantime, make sure you catch episode six of Humans of the World to see everything that they got up to!
By Britalians TV
Written by
AnumitaBagchi , Anumita Bagchi
Press Releases