Humans Of The World On Prime Video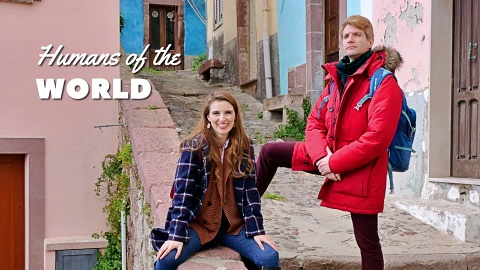 May 6, 2020 - By Marco Biagioli
HUMANS OF THE WORLD NOW AVAILABLE ON PRIME VIDEO IN THE UK AND THE USA: A TRAVEL SERIES WITH PEOPLE AT HEART.
LONDON, UK – 6 May 2020 – Humans of the World is now available on Prime Video in the United Kingdom and United States of America. This First Season sees the TV Presenting Duo – Marco Biagioli and Erica Melargo – setting off on a journey to discover humanity across the globe starting from Sardinia, home country of Erica. This first Season is produced by the Entertainment TV Channel Britalians TV and realized with the support of the "Sardinia Film Commission Foundation". 
The Series follows the Couple Marco & Erica engaging with people and communities while travelling through Sardinia. Humans of the World showcases Marco and Erica's passion for the people, cultural richness and diversity that make every place unique. Everywhere they go, they delve into people's life stories. Each human tells a story, each human plays a part in the overall journey that Marco and Erica undertake. 
Among the highlights are multiple stories born from on the spot road conversations as well as on site meetings, like the story of 2 young Bartenders born and raised in Cagliari now working at Grotta Marcello a real Cave in the heart of the city, or the story of a Ceramics Artisan that knowing all the secrets of the art is passionately continuing and innovating his father's work since a very young age manufacturing beautiful pieces which are among the treasures of ISOLA, one of the major showcases of Sardinian artistic craftsmanship, the story of a group of dedicated Women living in Bosa and still treasuring the ancient tradition of Filet, the artisan mastering the 5000 year-old jewellery technique of Filigree, the family story of a Church Father interviewed on the Altar of the main Cathedral of Bosa, and then University students, the story of 2 young men who relocated from Ireland and Denmark now living and working in Cagliari, actors, couples about to marry, a woman about to give birth in the city where Carnival traditions are so transgressive that either you get pregnant or you fall in love, Award Winning Winemakers of Bosa producing wine in the region for three generations, these and many other stories make an entertaining, fun and uplifting 6 parts series all to enjoy. 
The sparkling TV Duo Marco & Erica begin their adventure in Sardinia visiting Cagliari and Bosa mingling with the Mayors, meeting as many people as they can, trying their hands at local art while learning how the people that have proudly handed down knowledge and skills for centuries live and work in the Capital's city of Sardinia and in the Village of Bosa, and while eating their way through the delights of Sardinian Cuisine behind the kitchens of Homemade Deli Restaurants and Bars, a design Hotel and an ancient Bakery they conversate with every human on their way. From the ones born and raised there to the ones that have moved in or are just visiting it. 
The cast includes Marco Biagioli and Erica Melargo, imdb.me/marcobiagioli and imdb.me/ericamelargo. 
"It's Sardinia as you've never seen it, a giant human mosaic built on the move one human meeting at a time. We show the places featuring the people and businesses that you can find there" – said Executive Producers and TV Presenting duo Marco & Erica in a joint statement. 
"A fresh, spontaneous, fun and raw editorial cut with people at heart. It's an insight into the rich human dimension of travel combined with a mix of humour, lots of jokes, curiosity and in-depth conversations with wonderful people from all walks of life." – says Marco Biagioli who also directed the Series. 
WATCH ON PRIME VIDEO in the US https://www.amazon.com/dp/B08BN8T1KR and in the UK https://www.amazon.co.uk/Humans-of-the-World/dp/B08BN4GYRY
For more information about Humans of the World, go to www.britalians.tv 
About Britalians TV
Britalians TV is an Entertainment Channel and Production Company founded in London by the TV Presenting Duo Marco Biagioli and Erica Melargo, originally from Italy living in London, UK. 
Britalians TV creates feel-good content across a range of 3 main television genres Factual Entertainment, Light Entertainment and Comedy making cutting edge, fun and entertaining shows with Humans at their core, Humans from all walks of life and worlds, in all types of settings and with the goal to ultimately transform how you see the world and uplift the spirits. They believe passionately in the power of humour to connect with everyone and model the world via a message of truth and spontaneity. 
The Channel is also available on ROKU and it was born out of Marco & Erica's love for meeting and talking a lot to People. They are amazed by the Talent, Cultural Richness and Diversity that the World offers. Their Motto is TRAVEL, LAUGH AND CONNECT.
Britalians TV is constantly looking for people and businesses with great stories to tell to feature across their Shows. 
Connect with Britalians TV
Website: www.britalians.tv
Instagram: https://www.instagram.com/britalianstv
Facebook: https://www.facebook.com/BritaliansTV 
Youtube: https://www.youtube.com/britalianstv
Connect with Marco Biagioli 
Website: https://marcobiagioli.com
Instagram: https://www.instagram.com/marcobiagioli
Facebook: https://www.facebook.com/marcobiagioliofficial
Connect with Erica Melargo 
Instagram: https://www.instagram.com/ericamelargo
Facebook: https://www.facebook.com/ericamelargoofficial
By Britalians TV
Written by
Marco Biagioli
TV Show Episodes mentioned in this press release
Brands mentioned in this press release
Press Releases