One glass leads to another!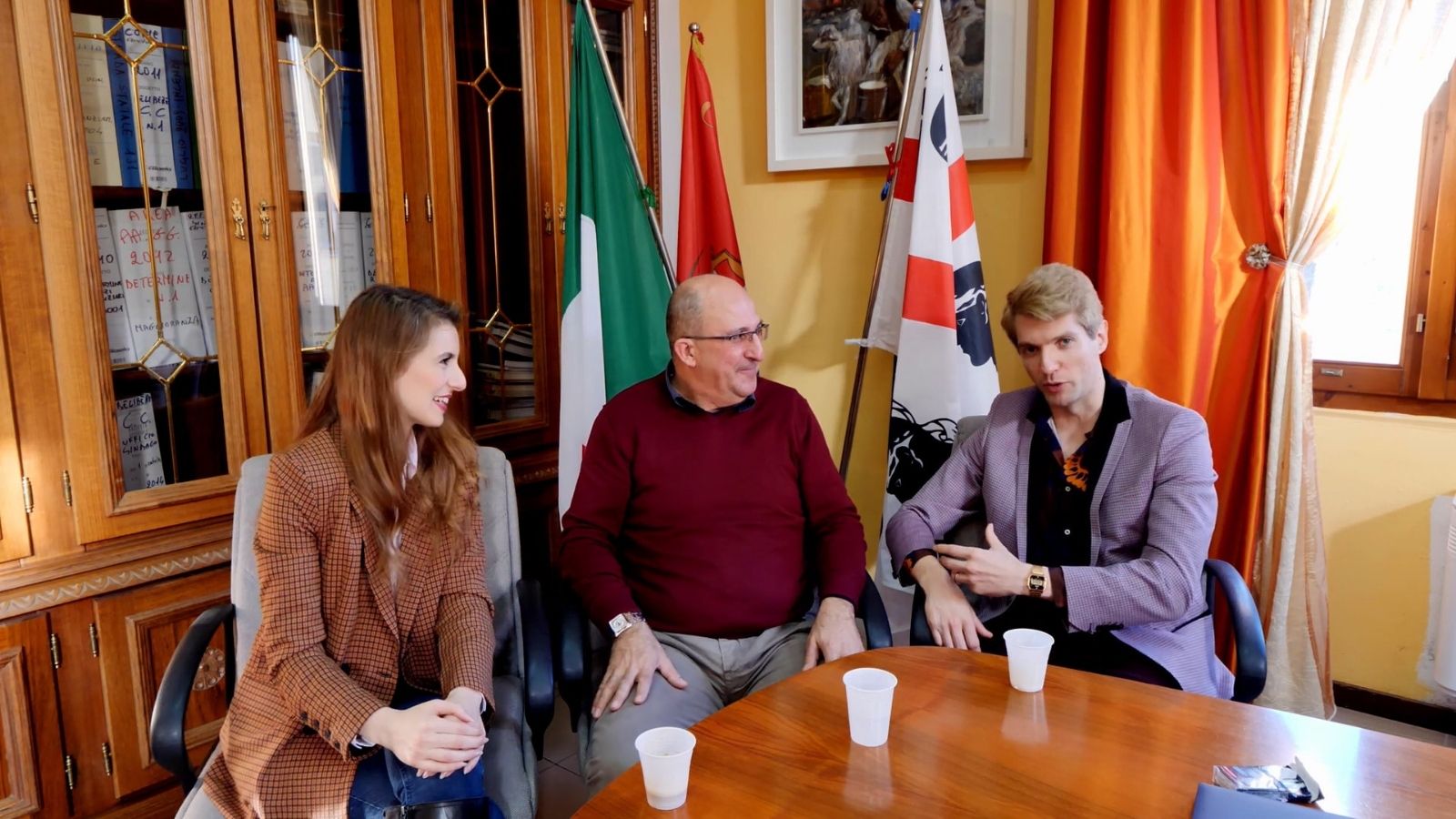 October 4, 2021 - By Marc Vezzi
Erica and (the drunk) Marco on the fifth day of their trip in Sardinia: first day in the fantastic Bosa!
One glass leads to another!
Erica and (the drunk) Marco on the fifth day of their trip in Sardinia: first day in the fantastic Bosa!
Britalians Tv viewers, good morning everyone!
Today's good morning comes not from Cagliari but from another town in Sardinia, Bosa! In the province of Oristano, on the west coast of the centre-north of the island.
First stop for our Marco and Erica is the Mayor, Piero Franco Casula! Although he had to undergo surgery on his vocal cords, he is here in great shape to represent his country!
A man who is satisfied with his life, who would do again what he has done, and even the mistakes, because those are the ones that make you experience and learn.
While Marco dwells on the First Citizen's outfit, Erica moves on to serious questions. Two major themes are important for Bosa. On the one hand, tourism, culture and events; on the other, the infrastructure and enhancement of the local environmental heritage.
This town has the only navigable river in Sardinia. The historical centre of the town, sa Costa, rises at the foot of the Serravalle hill, at the top of which is the Malaspina Castle, the emblem of the town. Therefore the city of the bottom of the valley, with fantastic panoramic views.
Destination of artists of photography and painting, but also poets and novelists. So Bosa aims to become a reference point for artists who want to express themselves here.
So what are you waiting for? Come to Bosa!
In the square in Bosa Erica and Marco meet Elena and Andrea. Elena hasn't eaten anything too much but she is pregnant! With a beautiful baby boy!
Andrea, therefore, has to do all the housework, times have changed after all! Except in Marco's house who is very lucky: "doing everything himself" means watching TV, taking a shower etc.
Carnival is a particular event in Bosa, so much so that it seems that people get pregnant right after Carnival! On the other hand, Carnival + alcohol is a great combination, according to Andrea!
Speaking of alcohol, Marco can't help but feel the desire to drink a nice glass of wine. So what better place than Cantina Giovanni Battista Columbu – Malvasia of Bosa? Marco: "The right place to get drunk!"
Fantastic environment, very rustic, with arches, books and wine. And finally, for the first time in our lives, we get to see even that boring Erica drunk!
As our folks go from a 2017 Alvarega Malvasia sweet, to another white wine, gossip, wine drinking modes, average drinks per day, and embarrassing gargling from Marco (the chick gave you a dirty look!).
Hear hear, the sommelier of this wine shop met her husband guess where? At the Carnival of Bosa!
Did the mayor mention art? Marco and Erica are hosted by the Manos De Oro Cultural Association. The name does not refer to something erotic Marcoooo! Maria Masala, President of the Association, surrounds Marco with the other women who are ecstatic, to say the least. Their association promises to continue and enhance the tradition of the famous Filet of Bosa. 
Our guests (and also the tender Marco) are given handmade earrings, a nice way to innovate the textile tradition also in the field of jewellery!
Last stop for today is the Cathedral of the Immaculate Conception. Don Franco welcomes Marco and Erica with arms wide open.
He has been a priest for 36 years. And already as a child, fulfilling the function of ministrant, he had begun to mature this desire and gradually realized it.
Leaving aside details about his beard (Marco!) his parents were happy with his choice of life, also because it has always been in his nature to travel here and there, and he would surely have had to divorce if he had taken a wife.
As a suggestion for those who want to take this path, Don Franco emphasizes relying on an adult to accompany them.
A gift to finish each one: some local sweets for Erica and a glass of wine for Marco. But do you really want to get him drunk then?
See you next episode, discovering Bosa!
By Britalians TV
Written by
Marc Vezzi
Brands mentioned in this press release
Press Releases